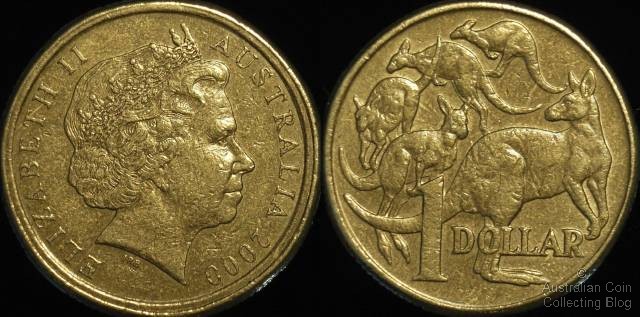 A typical "found in the pokies grade" Mule
Until now the year 2000 Australian $1 mule with the 10c obverse have traded quite commonly over eBay and public auctions without much discussion about their grade. Most of these coins have been found by coin noodlers who troll through dollar coins at gaming venues and casinos or obtain bulk coin from their bank or get lucky and are given one in change at the newsagent or supermarket and have been well circulated.
They occured when the Royal Australian Mint mistakenly paired up the heads (obverse) die of the 10c piece (ever so slighlty smaller) and struck mob of roos aluminium bronze one dollar coins for circulation. Is this an error or variety? No it's a mule! This question is very commonly talked about between numismatic folk and on coin forums with each having their own opinions. Never the less, it is a coin that wasn't meant to be struck and is highly sought with an estimated 6,000-7,000 coins in existence, often fetching around $500 each.
Great news for collectors is that PCGS, the Professional Coin Grading Service in America has recently recognised the 2000 mule and are slabbing them as a variety.
At the time of writing this article there have been 34 mules graded by this service with just 6 grading mint state or uncirculated. There is however an unfortunate error in their description "2000 $1 Mule-Stuck w/10C Obv" (pcgs number 506638).

AU50 pop. 6 coins
AU53 pop. 1 coins
AU55 pop. 13 coins
AU58 pop. 8 coins
MS62 pop. 4 coins
MS63 pop. 2 coins
Given these mules now have real grades assigned to each coin it will be interesting to see how prices evolve as it can be more easily determined which coin is better, rather than purchasing a "found in circulation" grade coin.
Posted by harrisk at June 1, 2011 1:48 PM
Subscribe to our Newsletter