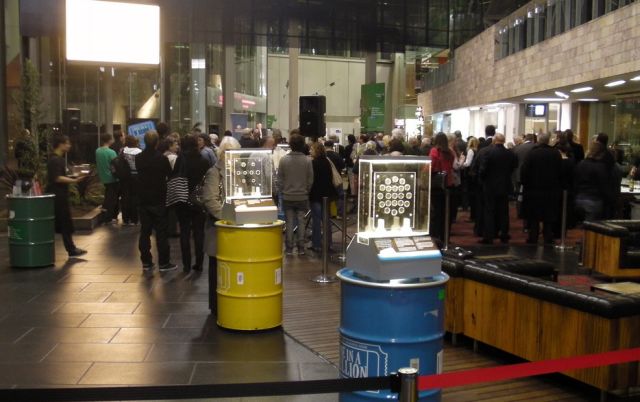 2012 RAM Product Launch (image courtesy 'Goldseeker')
The Blog team weren't able to attend the recent Royal Australian Mint's 2012 product launch. A big thank you to SJS (our Melbourne correspondent) who attended the event and filed this report.
"So last night saw the Royal Australian Mint's 2012 product launch at the Atrium, Federation Square in Melbourne. On arrival I saw a friend from an online forum standing next to the first display of the One in a Million exhibition and instantly recognised his handy work in the clock face of Centenary of Federation dollar coins. This fantastic display had a number of bunny ear Roo dollars in the middle and at the very centre a lovely example of a 2000 mule.

We were plied with food and drinks and RAM staff mingled among the gathered collectors and dealers. The launch itself was well done and with a number of commemorative coins coming out next year with a Melbournian theme it was clear why they chose to hold the event in Melbourne. These include a couple of coins to commemorate the 100th Men's Singles champion, which will occur at the Australian Open (the designs of this pair of coins was a little uninspiring to be honest) and the 150th anniversary of Melbourne Zoo being celebrated throughout the year with a set of pad printed coins, but this time of non-native animals.

Highlights for me include the Silver $5 convex Southern Skies coin, which for Intellectual Property reasons was only shown face on. I also think the decision to put a selectively gold plated 50c and a stunning hyper-metallic coin in the proof and uncirculated sets respectively is a fantastic idea and will reinvigorate these sets which have become a little stale of late.

Being a fan of Her Majesty (you can take the boy out of England but, you can't take the royalist out of the man) I was glad to see another 50c release to celebrate the Diamond Jubilee, although this time it seems to be a single coin. The wheat sheaf dollar looked great and an appropriate follow up to this year's ram's head. Finally the Shores Under Siege three coin set, looking back at the often overlooked bombing of Australia in 1942, has some really good design work and will be making its way in to my collection.

The entire calendar can be found on the RAM website. They are also offering collectors the opportunity to pre-purchase 2012 coins through a scheme call Collection by Selection. I'm not sure how this loyalty scheme will go down with dealers, as there are some clear incentives to order your coins direct from the mint.

Also of note was information I got from a dealer that there will be no Mint to Order coin this year as the demand is not longer sufficient to justify the program. One of the reasons for this is that the mint discontinued the dealer allocation, which meant that naturally the demand dropped. I found this news disappointing from a collector's stand point but understandable from a commercial perspective. I'm also struggling to see a Masterpieces in Silver set for 2012, but there is a Mini Money Circulating Coin Designs set of Gold Proof. Clearly gold beats silver yet again.

All in all it was an interesting evening to catch up with old friends and make some new ones. Oh and the exhibition was really well done and included a lot of decimal error coins including a 1991 Proof 5c mule with an NZ obverse and some amazing bottletop silver kangaroos."

Posted by harrisk at September 7, 2011 2:55 PM
Subscribe to our Newsletter