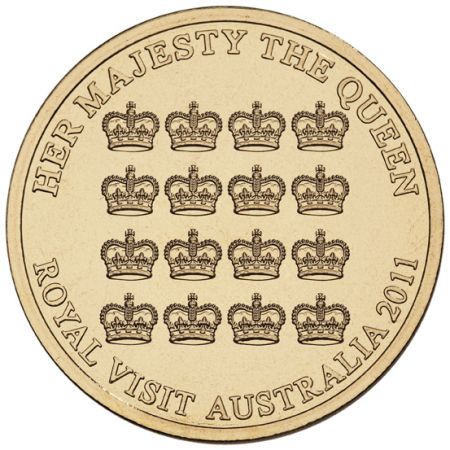 2011 Uncirculated Queen's Visit $5
(image courtesy www.ramint.gov.au)
Queen Elizabeth II is currently in Australia to officially open the Commonwealth Heads of Government Meeting in Perth, WA tomorrow. As a memento of this visit by the Queen and her husband Prince Phillip the Royal Australian Mint have produced an uncirculated $5 coin. She previously visited in 2006 with a 50c coin issued then.
The reverse design of this five dollar coin incorporates 16 St Edward's Crowns, this collectible commemorating the Queen's 16th visit to Australia was designed by Wojciech Pietranik. The St Edward's Crown is part of the British Crown Jewels (it is the principal piece of the Royal Regalia) and representations of it are used on badges and coats of arms throughout the commonwealth indicating the authority of the reigning monarch. It was last worn at HM's coronation in 1953. It weighs 2.2kg, is made of gold and features 444 precious stones.
Issued at $20, this coin in a presentation card has been minted on an aluminium, zinc and bronze planchet with a $5 legal tender denomination. It weighs in at 20g with a diameter of 38.74mm, a NCLT -non-circulating legal tender coin not intended for circulation. Certainly a collector piece for Royal followers but I doubt will ever increase much in value from an investment point of view with an unlimited mintage. The $5 denomination releases have proven to perform poorly for investors.
If you're collecting as a memento of this event then the one dollar coin also issued by the Royal Australian Mint which has been released into circulation and is available in Mint rolls for CHOGM is also a must for your collection. The packaging of the $5 Royal Visit coin has a special pocket to add your commemorative one dollar!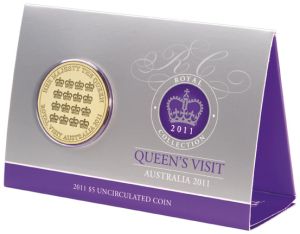 2011 Uncirculated Queen's Visit $5 in Collector Card
(image courtesy www.ramint.gov.au)
Posted by harrisk at October 27, 2011 9:52 AM
Subscribe to our Newsletter