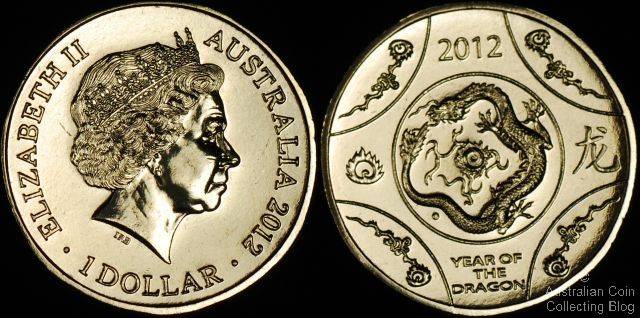 2012 Uncirculated Year of the Dragon $1
This is the sixth one dollar coin issued by the Royal Australian Mint in the lunar series, a coin design being released every year since 2007. The 2012 issue features the Year of the Dragon following the traditional chinese zodiac calendar. The one dollar legal tender issue is the standard 25mm 9 gram size made from aluminium bronze but you most likely won't ever find one of these in your change. It has been struck for the collector market known as NCLT where a coin bears a legal tender value but has not been made to be traded as everyday currency.
If you were born in the Year of the Dragon, 2000, 1988, 1976, 1964, 1952, 1940 or 1928 then it is said that you are bold, passionate, brave and much admired for your individuality. Your faults are that you may be egotistical and ambitious.
The reverse design (the tails side!) is sculpted by Vladimir Gottwald. A central circle contains a flame, the designers initials "G" and an intricate mythical dragon. To the left, a flame, and to the right the chinese character for dragon. In the 'corners' appears four identical lunes (crescent shapes) trailing long curling flames. The legends read 2012 and YEAR OF THE DRAGON.
The heads side, or obverse depicts the Ian Rank-Broadley portrait of Queen Elizabeth II which has been in use on legal tender since 1999. The obverse is different to other aluminium bronze standard sized dollars in that it has the denomination value -one dollar, appearing on the obverse.
Issued for $13.50 in a protective plastic blister snapped into a descriptive card it is housed in a symbolic bright red envelope. It has an unlimited mintage for now, the collector market will set the mintage through demand. We'll update this info when the annual reports are released.
Posted by harrisk at October 7, 2011 3:25 PM
Subscribe to our Newsletter