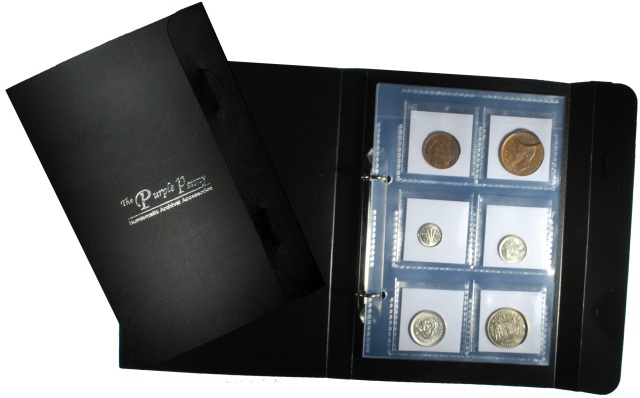 The Purple Penny Mini Coin Album
Nowhere before have collectors been able to purchase small portable coin albums that are PVC free(*). After months of research, design and prototype development The Purple Penny now have a non-pvc, secure and durable 48 pocket 8 page mini coin album available. Made from archival polypropylene this 2 ring mini coin album has cleverly designed pages which include a safety flap so your coin stays put! So many times before have collectors turned their portable coin albums upside down only to have 2x2's bouncing on the floor, even opening your backpack to find stray 2x2's not where you had left them.
Lift the safety flap on the page, slide your coin inside the pocket -both cardboard 2x2's and Saflips are the perfect size and lay the flap down over your holder. The album cover also features fold and clip wallet design holding the album closed and your collection secure inside. It's so versatile that if you need more space then just add another page or if you damage a page then no need to throw out the whole album, just discard the page and add a new one.
Attending a coin show? Take an empty mini album and fill it as you make your purchases. Meeting coinie friends for a coffee show and tell? Take your special coins and you know they'll be safe. This mini album is the perfect size to slip into your backpack, handbag or manbag!
Because this album is made of archival polypropylene and stainless steel ring mechanism you can be sure that if stored in your safety deposit box or safe then no harm will come to your coins over time.
This product is new, and has been designed by collectors to fit a need within the industry. The Purple Penny would love to hear your feedback, likes and dislikes about the product. Head over to the website and add a comment.
(*) We don't know of any available (in Australia), do you?
Posted by harrisk at October 6, 2011 11:18 AM
Subscribe to our Newsletter