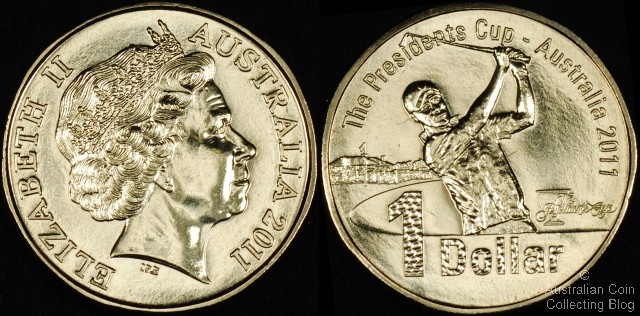 2011 Uncirculated The Presidents Cup $1
The Presidents Cup golf tournament tees off today at The Royal Melbourne Golf Course, the oldest golf club in Australia. It will host two teams captained by Greg Norman and Fred Couples. Norman leads the International team which includes players such as Adam Scott, Geoff Ogilvy and Ernie Els and Couples leads the US team which includes Tiger Woods and Phil Mickelson. These golfing greats are not paid for their participation instead this is a charitable event distributing more than $23 million to over 380 charities since the first President's Cup in 1994.
The Royal Australian Mint has produced 5 collectible legal tender coins to celebrate The President's Cup. One of the designs (seen above) is found on 3 of the 5 coins and features a golfer in his follow through after playing a shot with an iron. The clubhouse is in the background and The Presidents Cup logo and trophy adorn the design. The reverse features "The Presidents Cup -Australia 2011" and 1 Dollar which has golf ball type dimples. The design is not by any particular RAM designer but a collaborative effort. This coin is an aluminium bronze one dollar as seen in circulation but is not intended to circulate as legal tender, it has been produced as a collector product in a descriptive card. It weighs the same as a normal dollar coin at 9 grams and is 25mm in diameter with interrupted edge reeding.The obverse features the standard Ian Rank-Broadley effigy of Queen Elizabeth II and dated 2011.
This one dollar coin has been issued for $14.85, find the mintage in the 2011 mintages table. It has also been issued jointly with Australia Post in a PNC.
A fine silver proof coin of the same design was also issued weighing more because it's made of silver and not aluminium bronze, but still a 25mm one dollar coin.
Update: 7/12/11 Early indications are that the PNC can be picked up easily with the carded coin being tougher to find. It's probable that many of the carded coins went overseas with the Americans taking home the cup. A packaging problem saw the RAM recall the carded issue as one side edge of the cardboard had not been trimmed and the positioning of the authentic product sticker on the back prevented the cards from simply being cut down, they had to be replaced.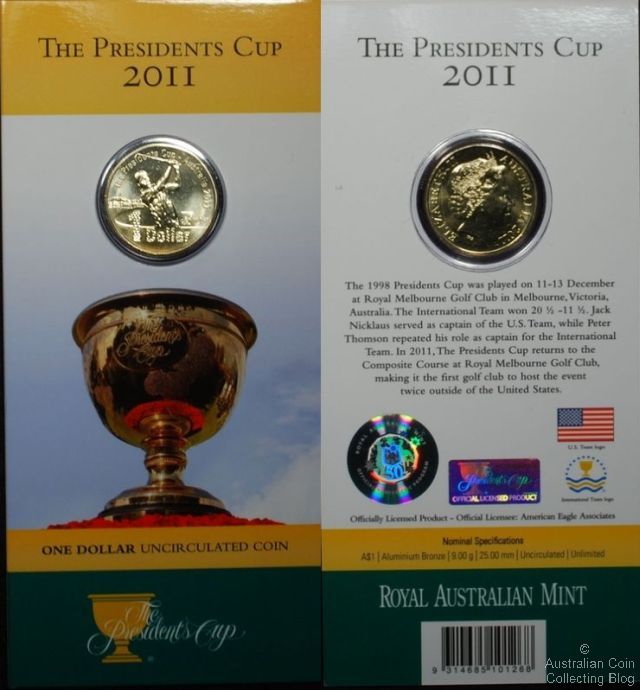 2011 Uncirculated The Presidents Cup $1 in Card of Issue
Posted by harrisk at November 15, 2011 1:27 PM
Subscribe to our Newsletter