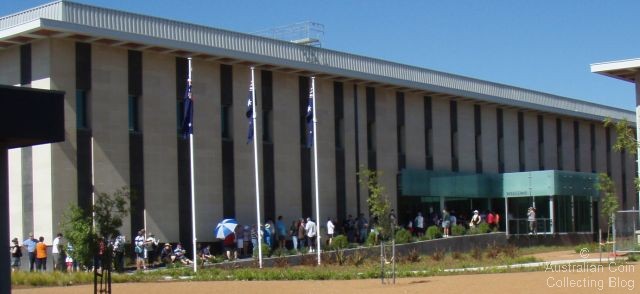 The First 100 Lineup
A beautiful sunny 1st of January 2012 and we're told the sunburn was free. Dedicated collectors were at the front of the queue to be the first to strike the new 2012 Wheat Sheaf C mintmark dollar coins on the gallery presses at the Royal Australian Mint. There wasn't a rush to be in the first 100 as our roving correspondents wandered up at 9:40am for a 10am opening of the RAM. It was a very relaxed atmosphere, they achieved around 60th in the lineup. Peter Russo from Brisbane had camped at the front door of the RAM from 9am the previous Friday to receive the framed certificate (for No. 1) and strike the first Wheat Sheaf C mintmark one dollar coin for 2012 . His collector friend should be very proud of the efforts he went to secure this coin and certificate for his mate. Security was on hand to monitor potential queue jumpers which had been a problem last year.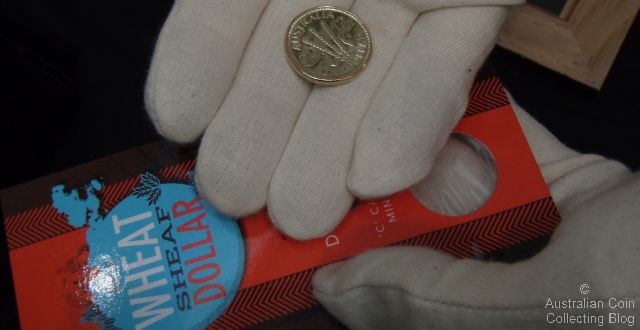 The First Coin For 2012
The first 100 visitors to the Mint received a numbered certificate, minted the first coins of 2012 and received a calico goody bag from RAM staff which included the Mint Issue magazine, Mint mints, bottled water and a white cotton glove. Among the dedicated was Australia's youngest collector, the 6 year old boy as cute as a button and battling brain cancer. He was the only collector who had their wheat sheaf coin folder signed by CEO Ross MacDiarmid. There are 2 gallery presses and odds (in entry line order) went to one press and evens lined up at the other to strike a maximum of 3 coins each.
Thanks to Robyn McCormack our ACT Coin Club Correspondent for battling the crowd to bring this information to the Australian Coin Collecting Blog.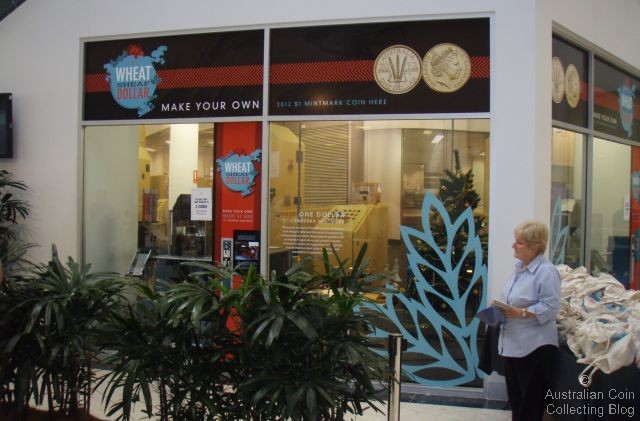 Gallery Press
Posted by harrisk at January 2, 2012 12:00 PM
Subscribe to our Newsletter