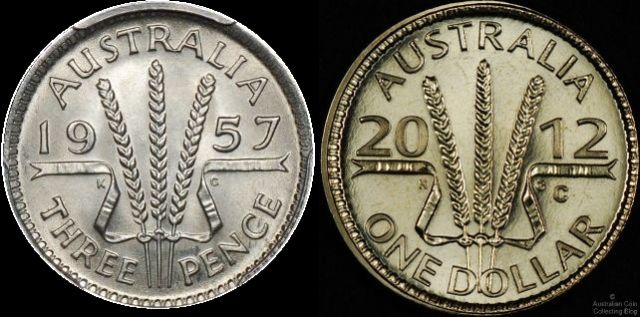 Threepence (left), One Dollar (Right)
Collectors lined up through the night to be the first visitors to the Royal Australian Mint on 1 January 2012. These die hard collectors were the first to press a C mintmark onto the 2012 one dollar reissue of the Australian threepence design by George Kruger Gray.
This design adorned the tiny 16mm pre-decimal threepence from 1938 to 1964. Originally in sterling silver it was debased to 50% silver for coins struck after 1946. The threepence weighs in at 1.41g and at decimal changeover in 1966 converted to just 3 cents.
Designer George Edward Kruger was born in 1880 and interestingly took his wife's surname of Gray when he married. He died in 1943. He was an English artist designing the Shilling Ram reverse used last year on the mintmark dollar coin. His work can also be seen on the florin reverse used from 1938 and the florin commemoratives of 1927 parliament, 1934/5 Melbourne centenary and the 1937 and 1938 crown. He also designed coins for Canada, Cyprus, Great Britain, Jersey, Mauritius, New Guinea, New Zealand, South Africa and Southern Rhodesia.
This years new mintmark dollar bears the same threepence design of the 3 wheat stalks and ribbon. The date, denomination, size, weight, obverse and composition however differ greatly. A much larger 25mm one dollar struck on an aluminium bronze planchet. This design will feature on all the mintmarked, counterstamped and privy marked dollars from the RAM this year and is also issued in silver proof. If you're a visitor to the Mint during Enlighten in March then you may also come home with a Canberra Bluebell Mintmark on your C mm wheat sheaf $1. If you can't make it to the RAM today for your C mintmark dollar, then don't panic, you have all year at the gallery presses in the Mint Shop.
Complementing this coin in 2012 is the Australian Wheat Fields of Gold one dollar also depicting sheaves of wheat.
Posted by harrisk at January 1, 2012 9:40 AM
Subscribe to our Newsletter