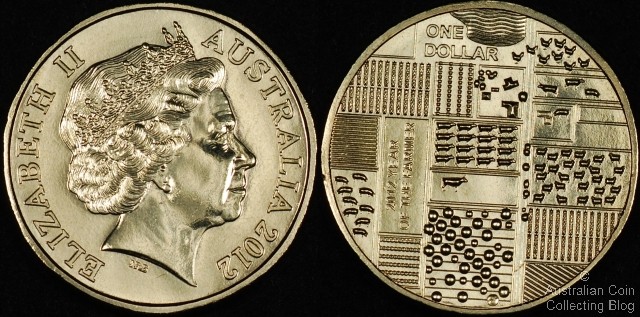 2012 Year of the Farmer One Dollar
Australian Year of the Farmer celebrates the vital role Australian farmers in the agricultural industry have in providing us with food, clothing and housing. With 136,000 farms across the country, these are the lifeblood of the broader agri-business sector injecting more than $405 billion into the Australian economy -27% of Australia's GDP! Manufacturers, marketers, researchers, scientists and retailers are all maintained by primary production.
The first European farm was established in 1789 and since then through drought and flood Aussie farmers have striven to bring consumers and manufacturers the best produce, fibres and materials.
Celebrating the efforts of the Australian farmer the Royal Australian Mint has struck a legal tender one dollar coin for collectors. Designed by Wojciech Pietranik the reverse features linear fields of farming activities. From bales of hay to crops of wheat, sheep, cattle, pigs and poultry to the most important dam and trough water source, farmhouse and farm sheds. Sneak a close look at one of the bales of hay and you'll see Wojciech's initials, look even closer and you'll see a chicken crossing the road!
The obverse features Queen Elizabeth II designed by Ian Rank-Broadley with his initials and the date of 2012.
This dollar is the standard 25mm size made from aluminium bronze. Issued in uncirculated finish it weighs 9 grams and is issued in a protective capsule in a colourful collector card for $13.50. For the most up to date mintage see the 2012 issues and mintages table.
Posted by harrisk at February 10, 2012 12:20 PM
Subscribe to our Newsletter