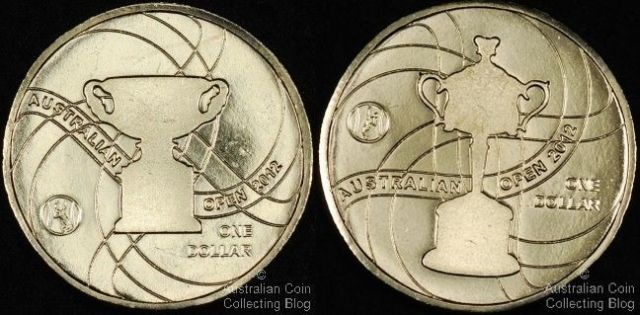 2012 Australian Open Coins Men's (left) Women's (right)
There were two coins minted for the Australian Open Tennis in 2012. One features the men's trophy and one the women's trophy. They are very similar coins and if seen apart it might be difficult to differentiate which coin is which. Hence the reason for the above image of both coins side by side to help determine which coin is which.
The silhouette on the women's coin is of the Daphne Akhurst Memorial Cup (right). This cup is tall and slender with a wreath and crossed tennis racquets on the top with fine handles.
The silhouette on the men's coin is of the Norman Brookes Challenge Cup (left). A more solid shorter fatter cup with strong handles.
When viewing the coins side by side it's easy to see the differences in both designs by the RAM's Wojciech Pietranik.

Posted by harrisk at February 1, 2012 8:27 AM
Subscribe to our Newsletter