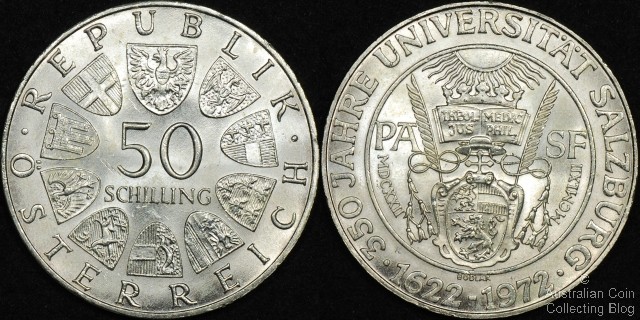 1972 50 Schilling .5787oz
We've just created an Austrian Silver Coin Bullion Calculator (not to be confused with the Australian Silver Coin Calculator) which is free to use and uses the latest silver prices to determine the silver bullion value of Austrian silver coins. Austria issued a lot of silver coins in various silver fineness during the 20th century and it can be a difficult task to work out exactly how much silver happens to be in each different coin.
Remember that the calculator only tells you the bullion value of coins and that the collector value of a coin can exceed that of the pure bullion silver value. Find the calculator in the Gold and Silver Coin Calculators links to the right of this entry.
Posted by harrisk at March 14, 2012 2:16 PM
Subscribe to our Newsletter