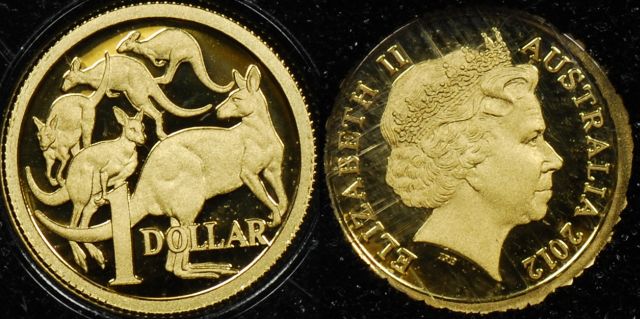 Mini Mob of Roos One Dollar
A must have on my shopping list of this years Royal Australian Mint coin releases was the newly issued Mini Money Circulating Designs set. A tiny gold mob of roos dollar coin reeled this dollar collector into a $590 purchase I probably shouldn't have made. The set features 8 coins all the standard circulating designs by Stuart Devlin from the 5c echidna to the $2 aboriginal design (by Horst Hahne). Interestingly it adds a round Coat of Arms 50c and the 1c and 2c now removed from circulation.
All 8 coins are the same size with a diameter of 11.15mm released in 99.99% pure gold. Struck in proof quality each coin is housed in a capsule with a foam surround. If it weren't for this surround the coins would be lost in the large velvet lined wooden case. I was pleased when I saw how this set was presented as I had envisaged that the foam surround would stop the coins from moving inside the capsule which is often a problem with coins housed this way (eg. Wedding Sets), this movement can cause damage to the coin. I was however mistaken as these coins move forward and backwards in their capsules which is not ideal.
These sets have been issued with a limited mintage of 2,000. Each of the 8 coins weigh .5g which makes a total gold amount of 4g included in this set. At today's gold price at the current exchange rate (according to the Gold Calculator) there is $204.21 worth of gold for issue price of $590. Interestingly this set was originally priced at $550 for those who opted into the Collection by Selection pre-order offered for the first time this year by the RAM.
Producing such tiny coins must have been a huge task for the RAM not having struck coins of this size before. The images provided here are taken with the coins as issued in their capsules. Ideally removing the coins from their capsules would have provided better photographs. Obviously the reverse is better presented than the Queen's portrait side with the obverse falling victim to the manufacturing process of the foam insert depicting ragged edges. You can also see scratching on the capsule surface as the coin sits back deep in the capsule when viewing the obverse..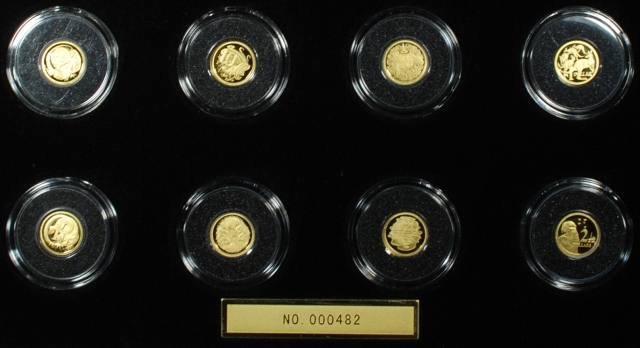 Gold Mini Circulating Money Coins
Posted by harrisk at June 20, 2012 3:34 PM
Subscribe to our Newsletter