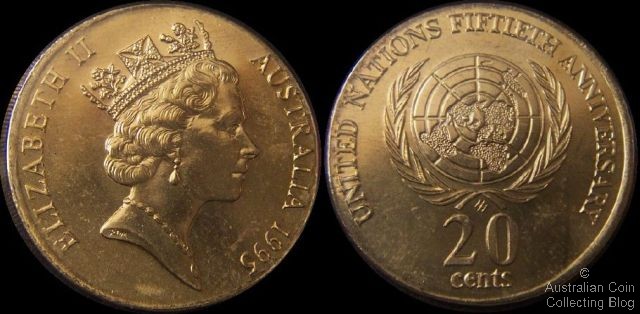 1995 United Nations 20c Struck on Wrong Planchet
This commemorative Australian 20c has been struck on a magnetic aureate bonded steel blank and not a cupro-nickel blank as it should be, hence the golden colour just like that of a dollar coin. Struck in 1995 to commemorate the 50th Anniversary of the United Nations up to three error coins of this type have been identified over the years. First outed in Australian Coin Review March 1996 an example was found in the till of a railway ticket office employee and sold to IS Wright in Sydney for a four figure sum.
A possible second example appeared in the October 2008 Status International Auction, sold for $2912.50 (incl. commision) and was discussed in an article in the Australasian Coin and Banknote Magazine in December 2008.
At the time of the original find the Royal Australian Mint was contacted and confirmed that the coin had accidently been struck on an aureate bonded steel blank intended for a Thai temple token. The RAM revealed that several different types of temple tokens had been made in 1995.
The third example and one imaged above was found in a mint roll and was advertised as being struck on an aluminium bronze planchet. Having an inkling after reading the CAB and ACR articles the new owner was pleased to make the purchase and determine it to be a magnetic planchet confirming it's origins as the same.
The weight of this 20c error is 7.6g and not the standard 11.31g. The rim of the error coin is also weakly struck because the wrong blank was smaller and intended for a 27mm coin collar and not the larger 28.52mm diameter of a regular 20c. The planchet composition ABS or aureate bonded steel is a thin lamination of copper and tin alloy over a steel core -the steel giving the coin it's magnetic properties. It is truly one of the coolest wrong planchet errors we've seen!

Posted by harrisk at September 5, 2012 1:51 PM
Subscribe to our Newsletter