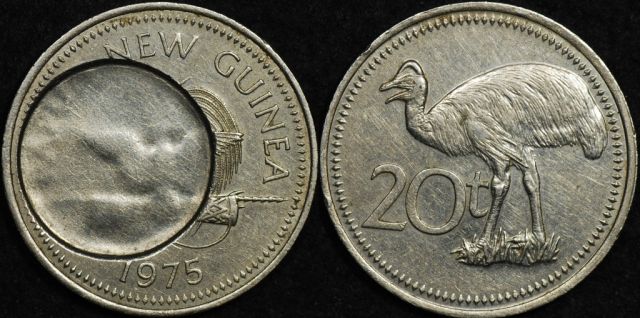 Papua New Guinea 1975 20 Toea Indent Error
The Royal Mint in London along with a little help from the Royal Australian Mint struck the first coins for Papua New Guinea in 1975. Before this Papua New Guinea traded Australian currency and didn't have their own money.
The above coin is a Papua New Guinea 20 Toea, the equivalent to 20 cents. It has been struck by the Royal Mint with a serious error. There is a blank void on the obverse of the coin. The void is called an indent as there was something in the way when the coin was struck. The indent is 17.5mm in diameter which is very close to the diameter of the struck bronze Papua New Guinea 1 Toea coin (17.65mm). It's plausible and very probable that a blank planchet for a 1 Toea denomination contaminated the blanks as they fed into the press striking the cupro-nickel 20 Toea coins. The smaller blank planchet entered the chamber and was struck with the 20 Toea leaving it's blank impression of the coin.
The 1 Toea mate to this error would appear with the Papua New Guinea official emblem the Bird of Paradise seated on a Kundu drum -the missing portion of this error, and would be blank on the opposite side. It's likely though that this error mate got picked up and never left the Mint at all.
These full indent errors occur very infrequently with an Australian penny currently on eBay and a 2002 Outback one dollar seen here. Partial indents are more common with brockages or without.

Posted by harrisk at October 8, 2012 8:37 PM
Subscribe to our Newsletter