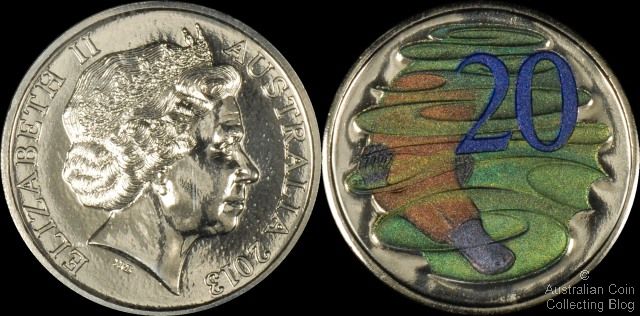 2013 Coloured 20c
The 2013 platypus 20 cent featured above can only be found in the 2013 six coin mint set issued by the Royal Australian Mint. The very lairy version of Stuart Devlins classic standard platypus design is just all wrong in it's hyper-metallic (coloured) finish of blue, lime green and brown.
Vibrant you say? Yes vibrant in a very gaudy fashion. We've nicknamed this coin the "pond scum" 20c.
Each 2013 special edition 6 coin uncirculated year set is individually numbered but with an unlimited mintage. It's the only coin in the set with such vibrant embellishment, the set also including all the other standard circulating coin designs. Last year if you recall the 2012 6 coin mint sets featured the Coat of Arms 50 cent with a coloured splash.
This set may appeal to some collectors but I'm afraid this colour enhancement is out of place on such a traditional standard iconic coin design.

Posted by harrisk at November 29, 2012 1:32 PM
Subscribe to our Newsletter