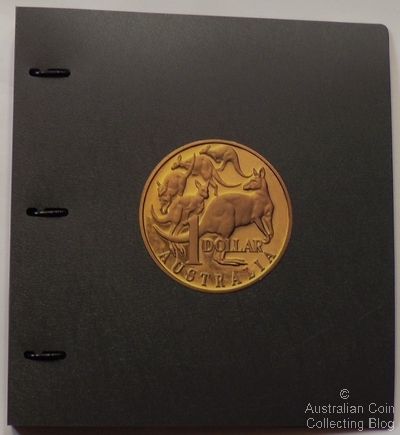 One of 7 Albums of Australian One Dollar Coins
I collect uncirculated Australian one dollar coins. It's been hard keeping my collection up to date even though I have set limits to what's included and what's not. My collection is based around the Mob of Roos one dollar found in circulation but extends to include commemorative circulation coins and non-circulating legal tender with the same specifications as the circulating type.
It has to include all the 25mm, 9 gram aluminium bronze coins issued by our circulating coin producer the Royal Australian Mint. The collection includes all the various mintmark, privymark and counterstamp coins including the earlier portable press and heavy press mintmarks that aren't easily identified. It also includes coloured pad-printed dollars. Each issue must be in it's original RAM packaging and where possible without causing damage to the packaging it's removed so all the dollars can be stored in 2x2 pages for ease of viewing. Australia Post PNC's and some other issues are stored in the pages inside their packaging as it would cause damage removing them. The packaging of each coin is stored in the front of the album and the coins at the rear.
If it's not a Royal Australian Mint Issue then it can't be included in the collection. Proof coins and those that are not the standard size are also left out of the collection. There are quite a few legal tender Australian one dollars issued by the Perth Mint but they aren't included in this collection as they are not standard.
There are 7 albums in total and to start with up to 10 years of coins could fit into one album. Times have changed since the first coin in 1984 and now in 2012 I'm lucky to fit one year issues into one album. This year we're up to about 25 and counting (remember they're stored with their packaging).
A couple of years ago I moved from staple 2x2's to Saflips to house the coins in the pages but other than that each album looks the same. I use The Purple Penny coin albums and 20 pocket coin album pages adding Lighthouse Vario 1C, 2C, 3C and 4C pages to hold the packaging. See the 3C pages below left with larger folders or cards in 2C or 1C size.
I've also learnt not to finalise a year of issue until a couple of years later after one year cutting up a mint set only coin only find it released later in the year in a PNC which would have been a cheaper way to obtain the uncirculated coin and have also found coins released into circulation years after their actual year of production.
To be honest the whole thing now has become a chore because of the sheer number of releases each year and keeping it complete doesn't give me as much pleasure as it used to.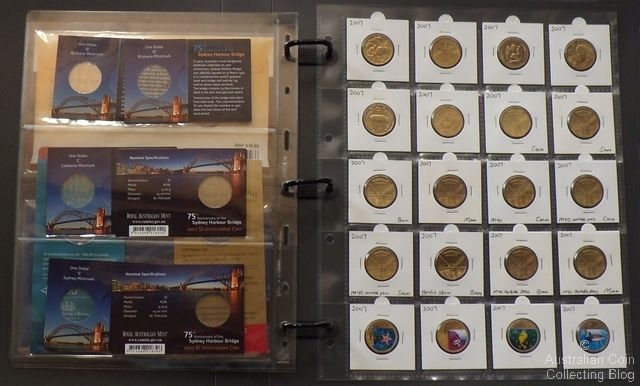 (Not all the) 2007 One Dollar Issues
Posted by harrisk at November 29, 2012 12:10 PM
Subscribe to our Newsletter