Last week, Florida hosted the annual Florida United Numismatics (FUN) coin show, and Sydney coin dealer Eric Eigner from Drake Sterling Numismatics was fortunate enough to attend. He emailed us his show report from the States yesterday, and we've reproduced it below.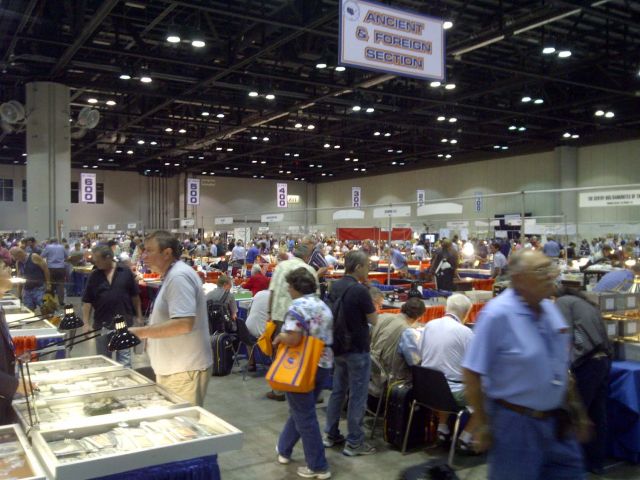 Florida United Numismatics FUN Show
It's my second FUN Show in as many years. I attended the last show with Chris Buesnell last year, and as I was in the neighbourhood last month, I thought I'd swing by Orlando, Florida to attend once again.
Like last year, the show was held in the second week of the New Year (10th Jan - 13th Jan), at the Orange County Convention Centre, just down the road from Universal Studios and Disney World. As one of the biggest coin shows in the numismatic calendar, the show attracted some of the United States' and the world's largest coin and banknote dealers. Despite the difficulty in organising and running a show of this scale, there was no charge for entry, and after receiving a silver medallion commemorating the 100th anniversary of the Buffalo nickel, I found myself on the main trading floor.
Americans are known for doing things on a large scale, and the FUN show did not disappoint. The hall was divided up into ten aisles, each aisle containing more than thirty dealers. US coin and banknote dealers were up the front, while world coin dealers and the "budget" sections were at the back. PCGS and NGC had their own booths (on opposite sides of the hall), while Heritage had an entire block to themselves near the entrance.
There was a section for kids, as well, with a gold panning exhibit (where kids could pan for real gold dust) and a President Lincoln exhibit (with a visit from the president himself, mole and all). Coin and banknote clubs had set up their displays near the back, and there was a wide range of numismatic-related pieces on display, including a few Australian coins and banknotes, shell currency from the Pacific islands, and ancient coins from Greece and Rome.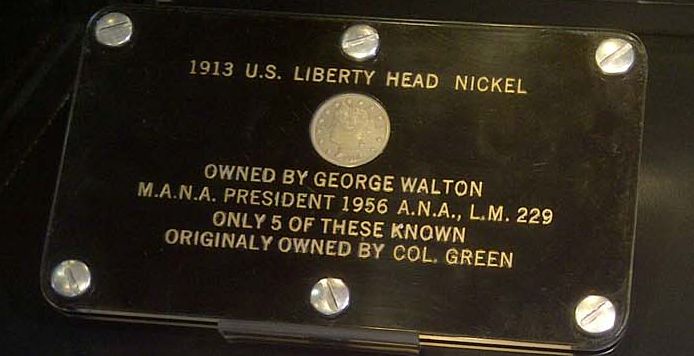 1913 Liberty Nickel
The highlight, of course, was the display of the 1913 Liberty Nickel from the Walton collection. I recommend you read about it on the internet, as the coin (and the other four specimens in existence) has a fascinating back-story. The coin on display, which is not the finest example known, is estimated to be worth over $3 million US dollars, which really does put to shame Australia's proof 1930 penny or the 1920 Sydney sovereign, our key rarities. The coin was available for viewing behind a pane of glass, and under the watchful eye of an armed security guard nearby.
As always, PCGS was present to accept coins for grading. Their table was busy, with long lines of collectors waiting for service. They were also holding a grading competition, which was open to all PCGS Collectors Club members on the floor. The prize for the winner was a $20 St Gaudens Double Eagle graded PCGS MS65, worth around US$2,500.
Meanwhile, NGC had a display of coins from the Arthur L. Gowan and Kamin Collections. Both sets were complete and scored highly in NGC's Set Registry programme. A lot of the coins were the finest-graded.
Of the coin dealers, there were many to go through. I'm glad the show goes over four days, because there really isn't enough time to visit every dealer in one day. I dropped by the tables of a few of the dealers I do regular business with, and their reports were that business was brisk. In fact, I experienced this first-hand, when I was reviewing a group of coins and stepped away from a table to work out the numbers, only to come back ten minutes later to find the coins I had had my eyes on had sold. Silver and gold bullion were also strong, while blocks and sheets of US banknotes sat in displays eagerly looking for new homes. Silver and gold Chinese Pandas and US Eagles were particularly popular, while bullion (and numismatic) sovereigns were thin on the ground.
Nevertheless, I managed to pick up a nice run of PCGS MS64 George V sovereigns from the UK and Australia, as well as the super scarce 1913-C sovereign (mintage only 3,715 pieces) and the 1910-C sovereign , graded PCGS MS63 and PCGS MS62, respectively. Interestingly, business in second-hand timepieces was also strong, with vintage watches being bought right off the wrists of surprised collectors.
On the whole, the FUN show of 2013 appeared to be a success. I can't speak for all the dealers who attended, but of those I asked (mostly world coin dealers), comments were generally positive. I look forward to attending the show in the future.
Eric Eigner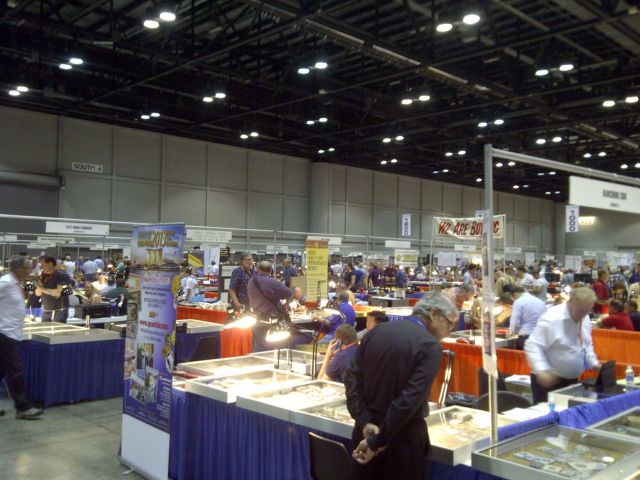 Florida United Numismatics FUN Show
Thanks to Eric from Drake Sterling Numismatics for keeping us up to date with news from afar.
Posted by harrisk at January 19, 2013 12:24 PM
Subscribe to our Newsletter