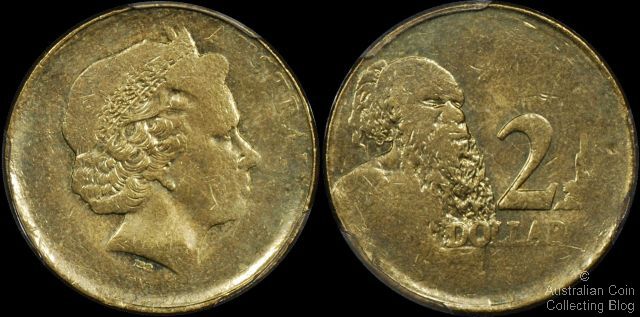 The discovery piece, the first slabbed $2 on Foreign Euro Planchet PCGS MS63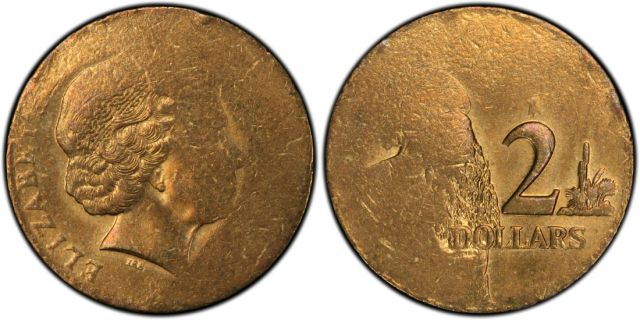 PCGS MS61 (image courtesy PCGS.com)
The last Downies Australian Coin Auction 312 saw 3 more Australian $2 error coins struck on foreign Euro 10 cent planchets surface. As published in Australasian Coin and Banknote Magazine in September 2012 when only one was known, the identified population of these wrong planchet errors is now 4.
Auction lot numbers 534, 535 and 536 identified a further 3 raw examples that also appear to have the same specifications. These sold for $525, $650 and $750 plus 19.25% buyers premium.
One of these examples has been graded by PCGS and is for sale on eBay starting at 99c. This newest coin is graded by PCGS as MS61. The Professional Coin Grading Service has somehow come to determine it's date as 2000 although there's no obvious date on the coin.
It will be interesting to watch this eBay auction and see what the final price* is as we were surprised at the prices achieved in the Downies auction. Having these errors identified certainly adds to their value rather than settling for the description of "coin struck on underweight planchet" or "weak strike". Maybe all of us will look closer at coins advertised this way in the future and think outside the square.
*sold on January 27th 2013 for $3050
Posted by harrisk at January 19, 2013 10:22 AM
Subscribe to our Newsletter