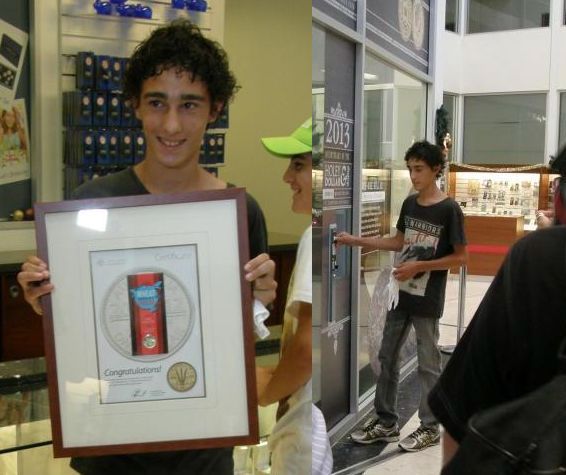 Harley Russo and His Last Coin For 2012
(image courtesy Karl)
If your name is Russo then there's a number one spot for you in the queue at the Royal Australian Mint to strike the first coin each year! Well that's the theme after 13 year old Harley Russo was first to mint the new Bicentenary of the Holey Dollar and Dump C mintmark one dollar at the RAM today.
Last year it was Brisbane man Peter Russo who braved a summers night camping at the front doors at the Mint but this year for Harley it was a multi-day event. Harley camped with his 3 brothers over the weekend and it was a family affair to mint the last coin of 2012 and the first for 2013. Harley's good luck earned him the raffle win of being the last to mint the gallery press dollar for 2012 before RAM techicians worked to change the dies for today's events.

The First 100 Queue 1 January 2013 at the Royal Australian Mint
(image courtesy Karl)
The sizzling of bacon and egg breakfast and a local jazz band eased the boredom for those keen earlybirds in the queue and the first lucky 100 went home with a showbag of goodies and a certificate. Harley with certificate number 1 was offered $800 by another collector to sell his number one coin but refused. Go Harley, you now have a unique set of coins to remember New Years events of 2013!
See the RAM facebook page for more images.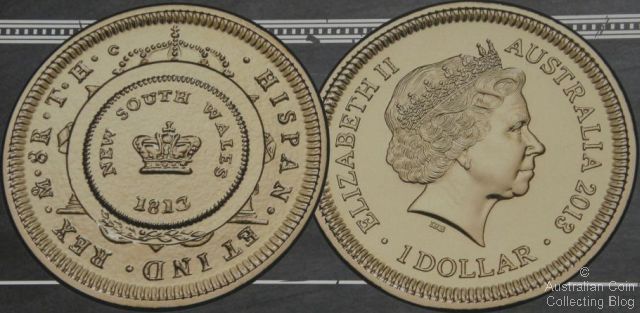 2013 Mintmark Dollar Bicentenary of the Holey Dollar and Dump
(image courtesy Karl)
Posted by harrisk at January 1, 2013 11:19 AM
Subscribe to our Newsletter