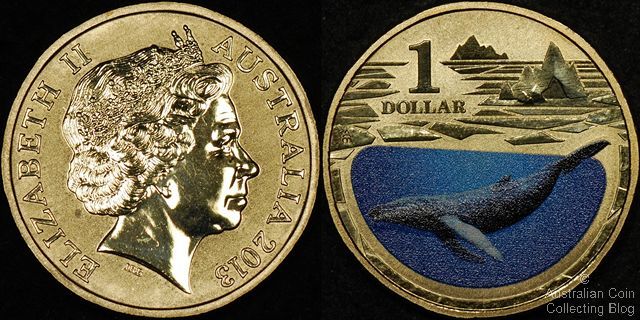 Australia 2013 Humpback Whale Coloured 1 Dollar
The popular Royal Australian Mints' coloured dollar series continues with this release showcasing Polar Animals.
The latest coin in the Polar Animals series, depicts one of the most iconic creatures of the ocean, the Humpback Whale. In pad printed colour, it's a beautiful rendition set within the Antarctica seascape. Australia has an ongoing fascination with the Humpback Whale particularly between April and November each year, when the Australian East Coast becomes a whale super highway - whales migrating north from Antarctica to warmer waters to mate and give birth; then turning around and migrating back south to boost their reserves by feasting on the krill laden freezing cold waters of Antarctica so they've enough fat reserves to do it all again the next year.
If you've ever gone whale spotting, you'll be familiar with scouring the seas for their unmistakable presence - which is usually revealed with the all too familiar occasional puffs of air pushed through their blowholes, glimpses of dorsal fins cutting through the sea, pectoral fins slapping the water, tail flukes raised out of the water as the whale prepares to submerge, and if you're really lucky, a gigantic acrobatic leap out of the water.
The Humpback Whale has earned a special place within the Australian physche. They've been successfully brought back from the edge of extinction as a result of over-exploited, large-scale commercial whaling, primarily for the by-products created from it's oil, baleen and "whalebone" extracted after slaughter. In 1979, the government of the day introduced a permanent ban on whaling, with the 1999 EPBC Act (the Environment Protection and Biodiversity Conservation Act) now in place. A result of this Act was the creation of The Australian Whale Sanctuary includes "the entire Commonwealth marine area, beyond the coastal waters of each state and the Northern Territory". Within this protection area it is "an offence to kill, capture, injure, harass, chase or herd whales, dolphins and porpoises" and also lists the Humpback Whale as "vulnerable".
The Humpback Whale coin is the latest release in the Polar Animals series, as a standard 9 gram 25 millimetre aluminium bronze one dollar coin. This coin you won't find in your change. The reverse frosted uncirculated finish is a design by Aaron Baggio, with the obverse portrait of Queen Elizabeth II by Ian Rank-Broadley. This coin is one of six coins in this series - two previously released coins depict the Polar Bear and the Rockhopper Penguin. The Polar Animals series follows the successful Animals of the Zoo Series of 2012 and the Air, Land and Ocean series of previous years. Issued at $15 this coin comes in a colourful collector card sure to interest the younger collectors! Mintage is unlimited at this time and will be determined by collector demand, see the 2013 issues and mintages table for the most up to date information.
Posted by harrisk at June 12, 2013 1:06 PM
Subscribe to our Newsletter