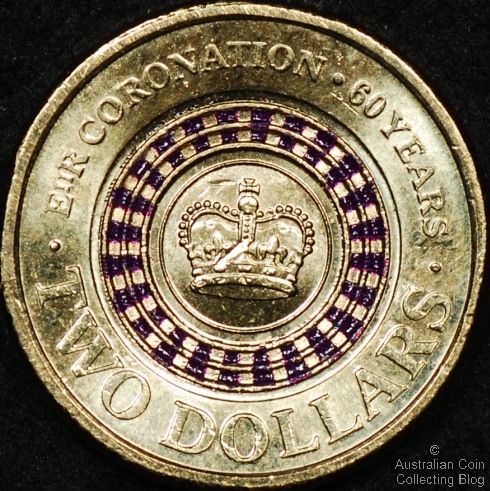 Reverse Australian 2013 Purple Coloured $2 Coin Found in Circulation
Australia's circulating coin producer the Royal Australian Mint in Canberra is on the cusp of an exciting new addition to legal tender Australian coins! Celebrating 60 years since the coronation of Queen Elizabeth II the Mint has an exciting surprise for the Australian public in particularly coin collectors.
The Mint has even showcased a new website teaser in anticipation of this big release, Colourful Change. Now please don't read on if you want to be surprised by the drumroll provided by the RAM but it looks like we'll now see what we thought we'd see late last year.
For Remembrance Day 2012 the RAM teased us with the idea that we'd see a $2 coin in circulation, the first that wasn't the Aboriginal design we're all used to. The exciting part was that it was to have a coloured portion of the design, a first for Australia! As we found out, it's all in the wording of the fine print and what we saw was a coloured version released for collectors and a non-coloured version released into circulation.
Our hopes were dashed but have now been resurrected by this pending release looking eerily similar. Another 2 dollar coin, same size, weight and composition as what we find in your change. This time with a reverse celebrating the Coronation of Queen Elizabeth II 60 years ago. The design, a circle enclosing a depiction St Edward's Crown, surrounding that circle, a pattern of purple coloured stripes superimposed on 3 concentric circles with the text 'EIIR CORONATION 60 YEARS TWO DOLLARS' and 3 dots. Take note collectors -purple stripes!! And on a coin with 2 million likely to be released into circulation!! If we hadn't thought it would happen last year then we would be more surprised but this is a huge undertaking by the RAM on a very fitting occasion for such a release. This coin will also be released for collectors with a C mintmark.
Fingers crossed, this time with such cryptic information released by the RAM, we find these stunning coloured coins in our change!

Posted by harrisk at June 9, 2013 10:47 AM
Subscribe to our Newsletter