The Australian Numismatic Dealers Association (ANDA) organises a number of coin shows each year across the country, but the Sydney show, held around August/September each year, tends to be the largest. Because we were unable to attend this year, we asked gold sovereign dealer Eric Eigner from Drake Sterling Numismatics to put together a short show report on our behalf.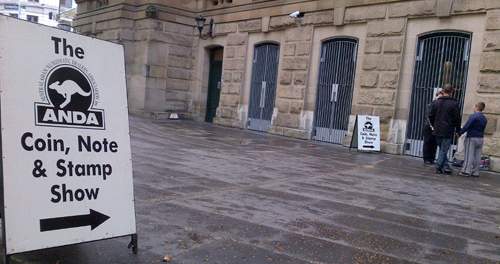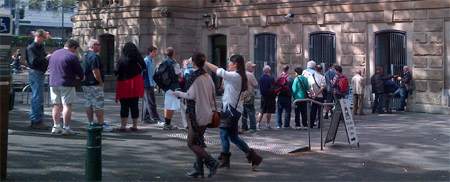 The 2013 Sydney ANDA Coin Show
Of all the coin shows held throughout the year, the ANDA Sydney show has always been my favourite. This year, the show was held on the 14th and 15th of September right in the heart of Sydney's CBD. The weather was great and the traffic into town was good, so as I hauled my wares through the freshly-renovated anteroom of the Town Hall at 8am on Saturday morning, it felt like it was going to be a good show. I wasn't disappointed.
At 10am, a moment before the doors opened, the length of the queue at the front door gave the impression that a celebrity was doing a book signing inside. And when Annette Power, the show organiser, finally swung open the doors, collectors stumbled over each other to get in. The vibe was good.
I had managed to check out some of the dealers stock before the doors opened, and there was a good range. I wasn't surprised that a number of dealers reported good business in the opening hours of the show. Stephen Cole from Salamanca Rare Coins had a great range of world and Australian coins. There was an equally good range of silver florins and brilliant copper coins from Mark Tyson, a dealer from New South Wales. One lucky collector managed to buy a lovely 1942 Bombay penny and a 1940 threepence from Kevin Ayres, a dealer from Canberra. Both coins looked Mint State (from my vantage point over the collector's shoulder), and at only $80 the pair, the coins were a bargain. Ian Pitt from Renniks was cheerful when we chatted and said that collectors were buying coin albums like hotcakes (which indicated to me that collectors must have been buying up coins to fill them with too). John Mulhall from the Coin and Banknote Magazine was also in attendance, as well as variety enthusiast Ian McConnelly.
Sadly, there were a number of dealers who did not attend this year. John Watson from Melbourne, a perennial favourite at ANDA shows (his tables are frequently swamped by bargain-hunting collectors), John Eccles from New Zealand, the ebullient Klaus Ford (whose famously shiny coins were noticeably absent), and of course the Royal Australian Mint all could not attend. One collector noted to me in particular that the absence of the Royal Australian Mint was keenly felt. (Personally, I was hoping to pick up another round of "S"-minted 2013 Holey Dollar counterstamped dollars, but alas I came home empty-handed).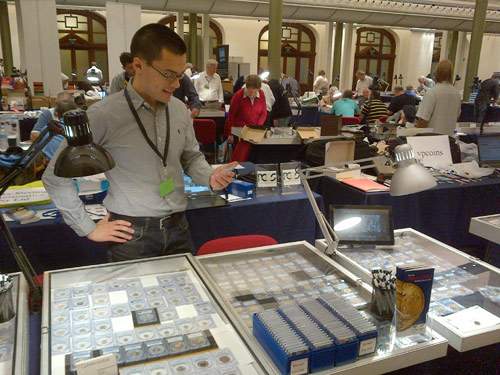 Eric Eigner at the Drake Sterling Numismatics Display
There has been trend over the years toward PCGS-graded coins. Judging by range of dealer stock at the show, it is clear that this trend has not abated. More dealers than ever had at least one PCGS-graded coin for sale, while some dealers, such as myself, had nothing but PCGS-graded coins. Pacific Rim Coins also had a good range of PCGS-certified coins, while there was a small selection of PCGS-graded coins at the Monetarium Adelaide table. Meanwhile, my "bargain bin" of PCGS-graded pre-decimal coins ($25 each or 5 for $100) was nearly sold out.
Overall, it was a good show, and a number of collectors who spent time at my table said the same thing. For the dealers, a lot of stock was sold, while collectors managed to pick up some bargains here and there. I know the collector who picked up my PCGS-graded 1966 proof set for a price less than what he could sell it for at auction was certainly happy. Hopefully, the Melbourne International Coin and Banknote show next month, held for the first time at Etihad Stadium, will be equally as good.
Posted by harrisk at September 22, 2013 8:57 AM
Subscribe to our Newsletter