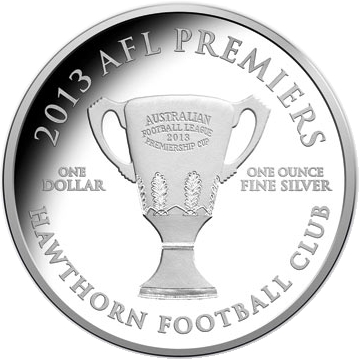 2013 Fine Silver Proof Hawthorn Premiers 1 Dollar Coin
- Image Courtesy Royal Australian Mint
On Saturday the 28th of September 2013 the Hawthorn Football Club defeated the Fremantle Football Club by 15 points to win the grand final and take out the 2013 AFL Premiership. The Royal Australian Mint is releasing a series of coins to celebrate the Hawks win as they did in 2012 with the Sydney Swans Premiership dollar coins. Last year the RAM released two different types of aluminium bronze 1 dollar coins, one in a PNC and one in a collector card.
While we're not exactly sure what the RAM is doing this year they've just released news that there will be a 1 Oz Fine Silver 2013 Premiers Dollar Coin available. You can see an image of this coin above. There's just going to be 5000 of these coins released and they will not be available until mid-November. Given the popularity of some of these limited silver coin releases this year you may find it tough to get one of these into your collection if you do not order early.
There's also a standard size aluminium-bronze 25mm 2013 $1 Hawthorn Premiers coin being released in mid-November riding on the the success of the 2012 Swans $1. We'll assume for now that this coin is going to be available in a collectors card and not in a PNC just yet. No doubt Australia Post and the RAM will collaborate on a PNC which should be available in the up-coming months. Stay tuned for further news.
Posted by mnemtsas at October 7, 2013 11:16 AM
Subscribe to our Newsletter