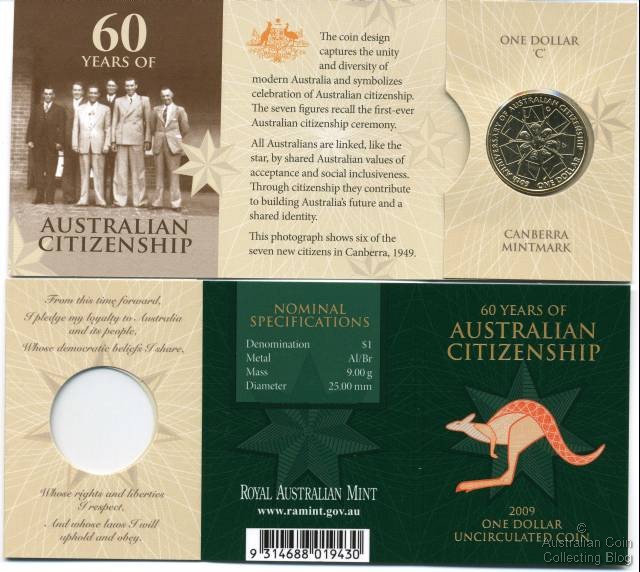 Australia 2009 Citizenship $1
The 1st January 2009 brought a change in the commemorative dollar design for the one dollar coin in Australia. Aside from the regular circulation mob of roo's design for our $1 there are often other releases to commemorate special events. For 2009 the theme is 60 years of Australian Citizenship. In 1948 the Australian Citizenship Act came into effect and to date more than 4 million people from various backgrounds have taken part in the affirmation ceremony to become Australian citizens. It is their chance to share a sense of belonging to Australia and make a commitment to our values and help to build Australia a strong future (they also get to vote and have an Aussie passport).
Each year the public line up on the Royal Australian Mint doorsteps to become the first people in the world to mint their own coin for the new year. This year the coin design features seven smiling new Australians with their hands raised linked in design forming the federation star. Amongst mint visitors in the line-up awaiting the mint's opening were overseas visitors, holidaying Australians, collectors and curious visitors, many men, women and kids running around.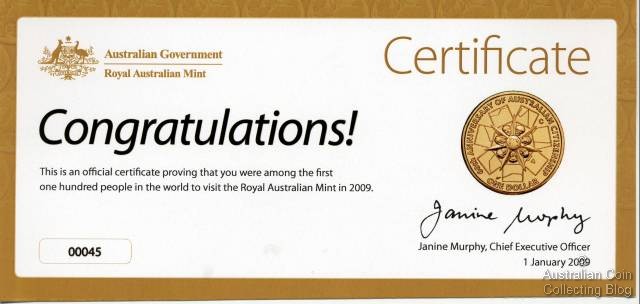 2009 First 100 Visitors To Royal Australian Mint Certificate
When the mint opened at 10am people entered the building and the first one hundred visitors were given a special numbered certificate commemorating their visit to the RAM. This certificate is shown above. After a speech from the Deputy Chief Executive Officer Mr Graham Smith and a photo by an Australian Immigration Department photographer visitors were allowed to enter the press gallery in their numbered order. They then fed $3 into coin operated gallery presses, pressed a button and watched their newly created coin being struck. If you were really tricky the mint staff and also the Acting CEO were happy to autograph the coin folder. A very busy morning for the Royal Australian Mint but well worth the effort to attend.

Posted by harrisk at January 2, 2009 3:46 PM
Subscribe to our Newsletter