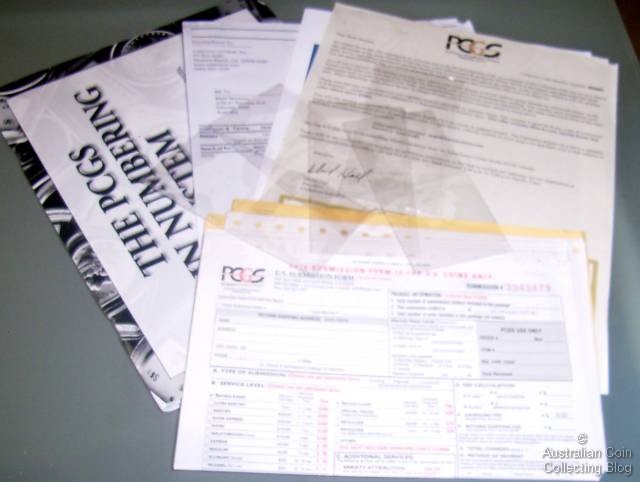 PCGS New Member Pack
I've just been going through the process of making my first submission of coins for slabbing to
PCGS
(The Professional Coin Grading Service). If you are not sure what this means it might be worth taking a look a the short series of posts I made about
Third Party Grading Companies
. Because I am based in Australia, and the process of submitting coins seems to be, well, rather bureaucratic this hasn't actually been the easiest thing to do.
Firstly, to submit coins to PCGS you must either join their member program or use a PCGS Authorized dealer to submit the coins for you. I chose to submit the coins myself because there's no authorized dealer in the city I live in. The dealer I have used in the past to submit coins for me had decided to stop submitting coins for the time being because of the poor Australian / US Dollar exchange rate. So, I decided to join up with PCGSs 'collectors club' and submit some coins myself. The Collectors Club includes three levels of membership. Each level gives you a number of free submissions each year as well as access to different features of the PCGS website, including the population report and PCGS price guide. Membership lasts for one year and includes a free quarterly grading specials (usually a US coin of some sort).
PCGS were offering discounted memberships in late 2008 so I decided to join up with Platinum membership which entitled me to 8 free 'regular' coin grading submissions. A 'regular' submission allows you to submit any coin worth less than US$3,000 as long as it is not a mint error or special issue. Free submissions sound great, but there is still a handling charge for the free submissions ($8 or so per order) and you still have to pay for insured shipping to and from PCGS. This is not too bad in North America, but down here in Australia you are looking at at least US$50 for just return shipping which is about AUD$75 at time of writing. So free isn't quite free, but still, regular submissions are worth US$30 each and the discounted joining fee was $180, so it was pretty good value.
Upon joining PCGS send out a new members pack containing all that you should need to make your first submission and new member information. This pack only took a couple of weeks to arrive here in Australia, which considering it was the Christmas / New Year period was pretty darn good. The pack contained the free submission voucher, detailed coin submission instructions, 8 2.5" mylar flips and adhesive labels, 3 submission forms, and the catalog of their coin numbering system. You can see the contents of the pack in the image at the start of this post. The 'US Centric' nature of PCGS really shone out with the member pack. The submission forms were all US Coin submission forms, and the catalog of their coin numbering system was for US coins only. So essentially these two items were useless to me because I wont be submitting many, if any, US coins to PCGS. PCGS should really allow new members to select if they will be submitting world or US coins at time of joining and the new member packs should be tailored accordingly. There's more coins in the world than simply US coins, and the number of world coins submitted to PCGS will only grow, and they should be preparing for this now, not later!
In the next part of this series I'll cover the submission process, including packaging the coins and filling out the forms. In later parts I'll cover the coins I'll submit and have a go at grading them so I can compare these grades with the grades returned from PCGS. Expected turn-around time for the coins is 40-60 days so I'll have plenty of time to think about it!
Posted by mnemtsas at February 1, 2009 6:27 AM
Subscribe to our Newsletter