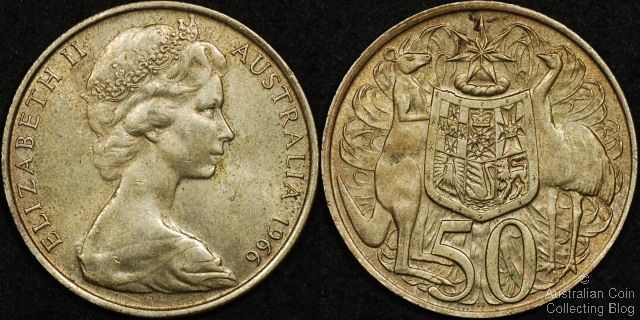 Australia 1966 50 cent
We think of the Australian 50 cent piece as being a cupro-nickel dodecagonal shaped coin but did you know they were originally issued as a round shape? In 1966 when Australian currency changed from the pounds, shilling, and pence sytem to the decimal system the circulating 50 cent coin still had the Coat of Arms design as we know today. The obverse was the same as the other decimal coins at the time, the young Queen Elizabeth II Arnold Machin portrait. When it was originally issued with this round shape in 1966 it contained 80% silver so today is most commonly traded as silver bullion.
Did you know that the round silver 50 cent you found in grandad's desk drawer is worth well over fifty cents! You can check today's value of multiple round 50 cent coins and bullion coins on our Australian Silver Coin Calculator. It's quite a handy tool to keep up with the current value along with any other gold or silver bullion coins.
The current value for a single round 50 cent coin is AU$11.59 (US$7.42). This value is updated every hour or so using the current silver price and exchange rates from Kitco.
Posted by harrisk at March 20, 2009 6:43 PM
Subscribe to our Newsletter