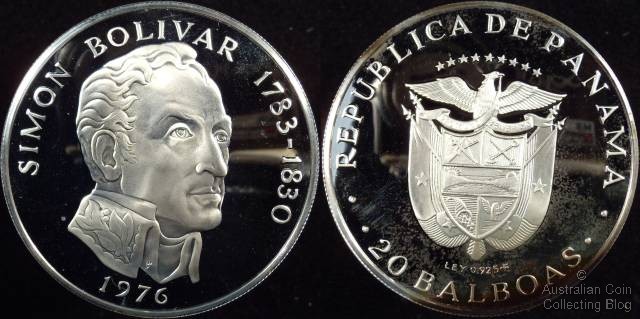 Panama 1976 Proof 20 Balboa
Shown above is a 1976 Panamanian 20 balboa coin struck to proof standard. It was minted from 129.6 grams of 0.925 fine silver (sterling silver) which converts to 3.85 ounces of silver. At the time of writing the silver content of this coin was worth about US$52. The obverse of the coin depicts Simon Bolivar, who was a leading figure in the struggle for independence of Spanish America. The country of Bolivia is named after him. The reverse depicts the great seal of Panama . The first thing to note about these coins is the sheer size. The coin is 61 millimetres in diameter, compare this with 32 millimetres for the Australian 50 cent and 30.6 millimetres for the US Half Dollar. It is simply massive, among the bigger coins minted in history. The coins were minted from 1971 through to 1985. However from 1980 they were minted from 0.500 fine silver rather than the sterling standard and the weight dropped to just under 120 grams.
I have a couple of these coins. The proof one shown above, and a regular circulation coin. The circulation coins don't have the normal polished appearance that most coins do, but instead have an all matte appearance. I cannot emphasize exactly how big these things are, each coin is a handful by itself. Consequently they are impossible to put in a holder and mine reside in paper envelopes where, sadly, they are hardly ever looked at. Mintages are small for almost every issue, ranging from just 500 for the 1984 uncirculated issue (celebrating the 200th anniversary of the birth of Bolivar) up to 161,000 for the 1974 proof issue. The higher issue coins are usually available at little more than the value of the silver they contain. The smaller mintages do have a numismatic premium, but given the low mintages and how infrequently they appear on the market I believe they are undervalued. Great coins, the 20 balboa's, massive discs of silver, everyone should have one. And given their low cost there's no reason not to.
Posted by mnemtsas at March 25, 2009 2:21 PM
Subscribe to our Newsletter