If you're interested in 18th or 19th century coins it wont be long before you come across the term 'trade coinage'. Trade coinage covers coins that were not really intended to circulate in their home countries, but rather to act as a medium of exchange of bullion of a known quality and quantity between different countries. Such trade coinage from different countries tended to adopt very similar mass and fineness of precious metal to help make the coins more readily accepted in the markets in which they were intended to trade. The biggest areas that trade coinage found circulation was in South America, China, and the Middle East.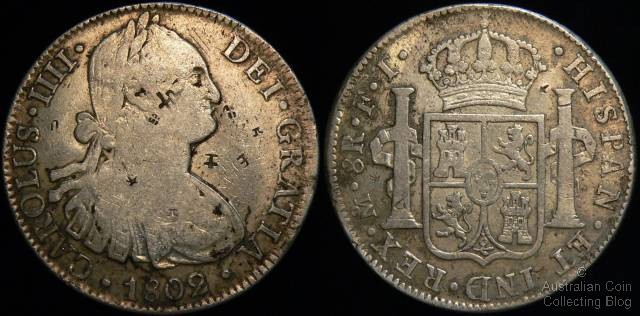 Chop Marked Spanish 8 Reale Mexico Mint
One of the more famous 'trade coins' is the milled Spanish colonial 8 reale, which was minted in the 18th and 19th centuries. Minted of 0.903 fine silver it weighed 27.07 grams (0.7861oz ASW) and formed the basis of most silver trade coinage for the next 150 years. It was traded in many countries and was the first US 'dollar' and formed the basis of their original currency. In fact, the slang for the US 25c coin of 'two bits' dates back to the period where 8 reale coins were cut up into 8 equal parts for small change, and 25c was 'two bits' of this cut up coin. It traded right through the Asian regions, Australia, Europe, and formed the basis of counter stamped emergency silver coinage in England in the early 19th century. It also found usage as currency in Brazil and India where it was over-struck to produce local currency.
The Spanish colonial 8 reale formed the basis of a whole range of large silver coins designed specifically for international trade. All of these coins had very similar silver content and varied slightly in mass and fineness. Countries strove to make their trade coin the accepted medium of trade by increasing the actual silver weight of their coins slightly to make them more attractive to foreign traders. Examples of trade coins that circulated in China and other Asian countries in the latter half of the 19th century and early 20th include: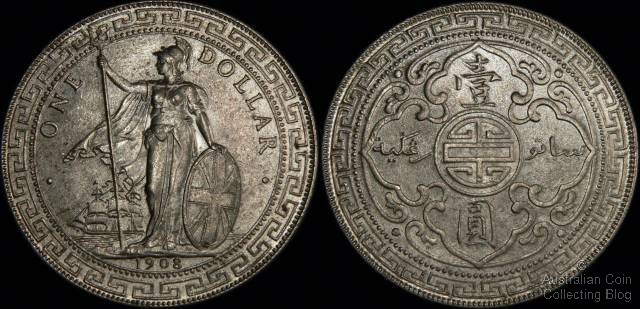 Great Britain 1908 Trade Dollar
USA Trade dollar, 27.0 grams, 0.900 fine silver, 0.7814oz ASW
Japanese Trade Dollar, 27.22 grams, 0.900 fine silver, 0.7877oz ASW
British Trade Dollar, 26.957 grams, 0.900 fine silver, 0.7801oz ASW
French Piastre, 27.215 grams, 0.900 fine silver, 0.7876oz ASW
Mexican Peso, 27.073 grams, 0.903 fine silver, 0.7861oz ASW
Trade coinage existed in the form of gold coins as well. Some of the better known gold trade coins include the ducat and the sovereign. Ducats have been struck for hundreds of years as trade coins and are still struck to a standard specification today. Originally minted to a standard in 1566 they remained officially recognised as trade coins until 1857 and as I've mentioned are still struck today as bullion coins. The most commonly recognised ducat is the Dutch ducat but they are still minted in Austria and have been minted in a lot of European countries including Germany, Hungary, Italy, Romania, and Spain. A standard ducat contains 3.4909 grams of 0.986 fine gold which is 0.1107oz AGW.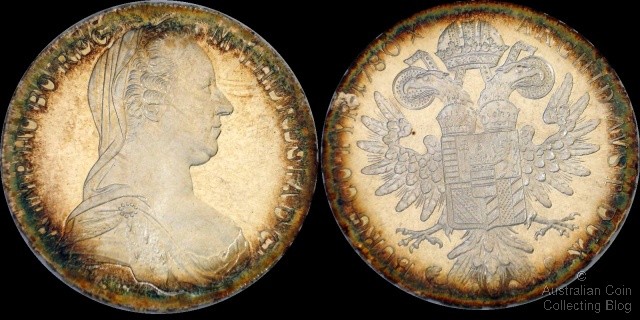 Austria 1787 Maria Theresa Thaler Proof Restrike
In closing this entry it would be remiss of me not to mention the Maria Theresa Thaler of Austria. This is probably the single best known trade coin in history. It has been in production since 1741 in one form or another, with the 1780 thaler being restruck since 1780 until today. It is estimated that nearly 500 million of these coins have been minted. The Thaler contains 28.0667 grams of 0.833 fine silver with a resultant actual silver weight of 0.752 oz. The coin was used as the principal medium of exchange between Europe and the Middle East and parts of Africa for more than 100 years. It was even the official currency in a couple of Middle Eastern countries! According to Wikipedia the coin is still traded in Middle Eastern countries today, testament to it's longevity.
Posted by mnemtsas at March 9, 2009 2:30 PM
Subscribe to our Newsletter