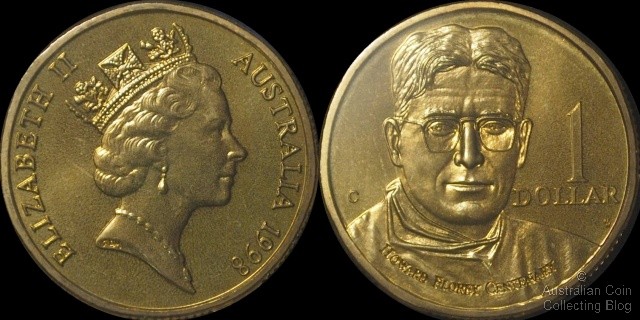 Australia 1998 $1 Howard Florey Dollar
In 1998 the Royal Australian Mint released a collector coin celebrating the 100th anniversary of the birth of Lord Baron Howard Florey (who was shown on the paper $50 note). Born in Adelaide, South Australia in 1898 he is famously known as perhaps Australia's greatest ever scientist and having shared in the discovery of the anti biotic penicillin with Ernst Chain and Alexander Fleming. In fact he shared the Nobel Prize for Medicine with these gentlemen in 1945 for the discovery and extraction of penicillin. Some experts regard that the discoveries that Florey was responsible for have probably saved more than 80 million lives worldwide!
While not released into general circulation the Florey dollar was struck in Aluminium Bronze with the C (77,035 mintage), S (44,080 mintage), B (29,914 mintage), A (21,120 mintage), and M (21,809 mintage) mintmarks. The coin was also struck in silver in proof standard, interestingly the silver proof was struck with the Ian Rank-Broadley portrait of the Queen on the obverse. As you'd expect the silver proof has the highest CV ($85) of the Florey dollars, the aluminium bronze strikings are low CV and easily found.
Seen above the obverse of the coin depicts the Raphael Maklouf portrait of Queen Elizabeth. The reverse of the coin is a team effort by Horst Hahne and Vladimir Gottwald. It depicts a portrait of Florey in surgical garb. As far as coin portraits go it's a pretty good one, and certainly a lot better than some portraits found on Australian dollar coins, such as that on the Parkes Dollar.
Posted by mnemtsas at June 14, 2009 8:34 AM
Subscribe to our Newsletter