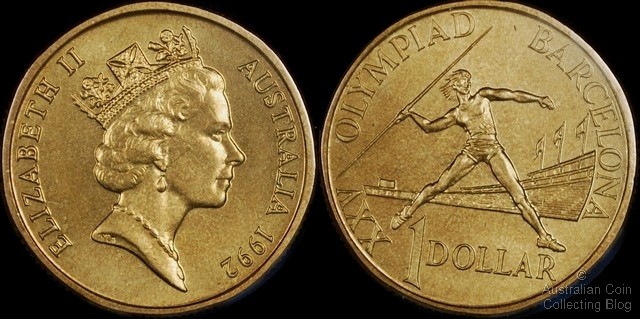 1992 Barcelona One Dollar
In 1992 the Summer Olympic Games (the XXVth Olympiad) were held in Barcelona, Spain. There were 32 sports in which competitors participated in 286 events to win gold, silver or bronze medals for their country. There were 169 countries competing in this 25th Olympic Games. The host city was selected by the International Olympic Committe (IOC) to hold this prestigious event and often hundred of millions of dollars is spent by the host city to build the biggest and the best sporting venues. To celebrate our nations involvement in the Olympic events that were followed by millions on almost 24 hour TV coverage the Royal Australian Mint released a comemmorative One dollar coin.
This coin was not released into circulation (known as an NCLT issue). It was a standard size 25mm aluminium bronze dollar weighing 9 grams with edge interrupted reeding. The reverse depicts a Javelin thrower sculpted by Margaret Priest with "XXV OLYMPIAD BARCELONA 1 DOLLAR", the legend. The obverse is the Raphael Maklouf effigy of Queen Elizabeth II.
This coin was issued without a mintmark but was available in a number varying packages. It was available at the Mint your Own Gallery Press at the RAM for $2 when you visited Canberra. This was issued in a wallet depicting the RAM building. These were then replaced by wallets with a picture depicting the Olympic rings. The illustrated wallets were also issued at the Sydney Royal Easter Show with a competition entry coupon included.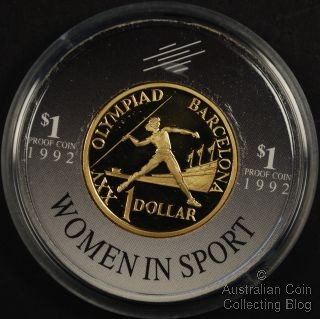 1992 Barcelona Dollar Aluminium Bronze Proof "Women in Sport"
The RAM also released a special Aluminium bronze proof version (mintage 2,979) which was encapsulated. This version was to highlight women in sport but was abandoned before the commencement of the games and is now quite a scarce issue with a high catalogue value.
The Barcelona $1 was also issued in silver proof which and being silver is heavier at 11.49 grams. It was released in a square box available through the RAM and was also available as a special Coin Fair version which was packaged in a long box. This Coin Fair Silver proof was issued at the NAA (Numismatic Association of Australia) Coin Fair in March 1992 and features continuous reeding around the coin's edge.
The Barcelona $1 can also be found in the One Dollar coin collection together with restrikes of previous years. This is a 5 coin set of dollars in a cardboard folder.
Mintages can be found in the 1991-1995 One Dollar Issues and Mintages table.
Posted by harrisk at November 13, 2009 12:30 PM
Subscribe to our Newsletter