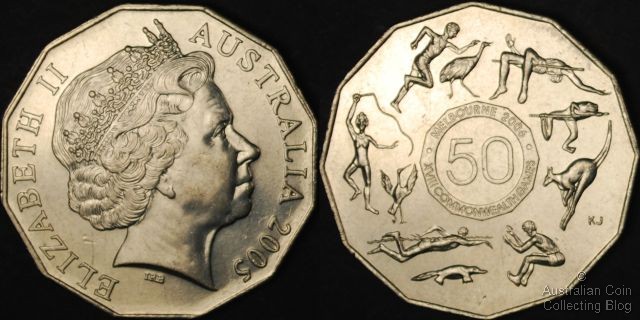 Australia 2005 Melbourne Commonwealth Games 2006 50c found in change
"United by the moment" was the motto for the 18th Commonwealth Games held in Melbourne, Australia in 2006. Every 4 years since 1930 (excepting during WWI in the 1940's) nations of the Commonwealth compete together in events such as aquatics, gymnastics, cycling and shooting. For eleven days in March 2006 spectators and athletes flocked to Melbourne venues to watch and compete. Australia won 84 gold medals finishing at the top of the medal tally board for all the Commonwealth competitors.
To celebrate this event the Royal Australian Mint released a commemorative fifty cent into circulation. Just to confuse you the coin is dated 2005 on the obverse but features "Melbourne 2006 XVIII Commonwealth Games" on the reverse. This coin as shown above was designed by 16 year old Victorian Kelly Just who won a nation-wide secondary school competition to design the reverse. Kelly's original design was then sculpted by Vladimir Gottwald but the coin bears the initals "KJ". Kelly's reverse design depicts animals mimicking athletes as they are competing in the Games symbolic of the embracing spirit of the games and Australia's unique fauna.
This standard dodecagonal cupro-nickel 50 cent piece weighs 15.55 grams at 31.51 mm in diameter. It features the standard Ian Rank-Broadley effigy of Queen Elizabeth II. 20.478 million of these coins entered circulation so they are not hard to find in your change. 24,806 carded unc coins were issued separately for $7.50 each. This coin was also included in a foldered collection of uncirculated coins featuring all the NCLT (non-circulating legal tender) commemorative 50c coins issued for the games and a $5 coin with a mintage of 15,500 folders for $99. A 99% silver proof version was also issued.
A circulated coin pulled from your change would be worth.......50c!
Posted by harrisk at January 20, 2010 4:15 PM
Subscribe to our Newsletter