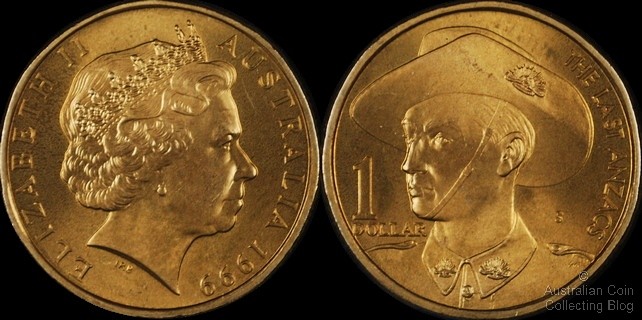 1999 Last Anzacs Dollar
1999 saw the release of yet another military themed collector dollar coin by the Royal Australian Mint. 1999 was 84 years since the landings of allied troops in the Dardanelles in Turkey, and in particular the landings of Australian and New Zealand troops at Gallipoli (an event we covered in our entry on the 2005 Gallipoli Dollar. By 1999 even a boy who had lied about his age to join the army at 15 or 16 would be 100, and sadly, veterans of Gallipoli were very few indeed. To acknowledge their sacrifice and valour (and that of other veterans of Australia's conflicts since nationhood) the Federal government ran a commemorative program in 1999 called Their Service - Our Heritage and the RAM released the 1999 Last ANZACS dollar as part of this program.
The RAM issued the Last ANZACs dollar as standard sized 25mm, 9 gram aluminium bronze coin with the Ian Rank-Broadley portrait of QE2 on the obverse. The reverse sculpted by Wojciech Pietranik, shows a 'digger' (the nickname Australian soldiers quickly gained in WW1) in his iconic slouch hat.
The Last Anzacs dollar was the mintmark dollar for 1999, mintmarks issued were a C for Canberra (126,161 minted), S for Sydney (53,286 minted), B for Brisbane (33,634 minted), A for Adelaide (28,681 minted), and M for Melbourne (49,841 minted). Some of the C mint marked coins were minted on the public presses at the mint in Canberra, while the remaining mintmarks had some coins minted on portable presses at Royal shows in their respective cities. The exact mintages of the portable press coins is unknown. Each mintmark coin was released in an attractive folder, with a different folder produced for each mintmark. 56,065 of the total mintage of C mintmark coins were also released in a 2 coin folder with the 1999 Year of the Older Persons dollar. 25,000 of the coins were struck in pure silver to proof standards and released onto the collector market.
Very interestingly 47,830 of the Last Anzac dollars were struck with 2000 dated dies for a PNC release with Australia Post. These non-mintmarked coins are all dated 2000 and are not included in the mintages mentioned above.
Lest We Forget : The last ANZAC, Alec William Cambell, died on 16th May 2002. Alec lied about his age when he joined the army and was aged just 16 years and 4 months when he enlisted in July 1915 and he landed at Gallipoli on 2 November 1915.
Posted by mnemtsas at January 2, 2010 12:57 PM
Subscribe to our Newsletter