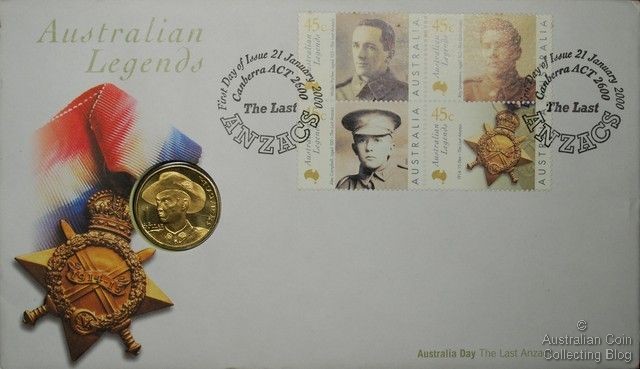 The Last Anzacs PNC
The Last Anzacs was the theme for the 1999 mintmark coin released by the Royal Australian Mint depicting a proud Anzac soldier. An interesting addition to these releases, a coin with the same design but dated 2000 was released only in a PNC for Australia Day in 2000. This PNC was released on January 21, 2000 in Canberra.
It's release in this PNC commemorated the Australia Post Australian Legends Awards which honours living Australians who have made an enormous impact on how Australians think about themselves and their country. This award has been presented each year since 1997 (interestingly prior to 1997 the only living persons allowed on stamps were memebers of the Royal family). The 2000 award honoured the last surviving Australian Anzacs and the men whose feats at Gallipoli shaped the nations self-image. In 2000, the award was presented to Roy Longmore who was a 21 year old tunnel digger at Gallipoli, Walter Parker who carried vital ammunition and water to the troops at Gallipoli and Alec Campbell who enlisted at sixteen and fought in the trenches of Gallipoli. These men were depicted on the stamps seen on the cover of this PNC. Each of the men were also awarded the 1914-15 Star which is seen on the 4th stamp in the series and on the cover of the PNC. Each recipient of the award received a gold replica stamp at an awards lunch on Australia Day.
47,830 of these PNC's were released at issue price of $7.90. As with many military themed issues this PNC has done well currently cataloguing at $135 (March 2011). It is the only way to get a 2000 dated The Last Anzacs one dollar and the only issue without any mintmark.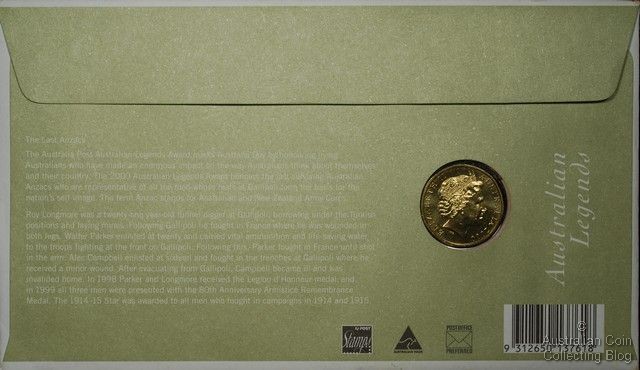 The Last Anzacs PNC
Posted by harrisk at March 7, 2011 11:29 AM
Subscribe to our Newsletter