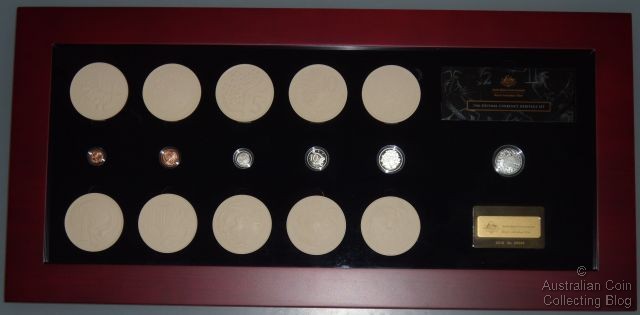 Australia 1966 Decimal Heritage Set
This beautifully framed coin set issued by the Royal Australian Mint is a limited issue of 400 pieces. It features the original coin designs on Australia's circulation coinage still seen today in your change (1c and 2c excepted). It reflects on what could have been with 10 resin replica's of some of the possible choices submitted by 5 other designers in 1963 when a competition was held to design the new coinage for Australia. From 14th February 1966 Australia moved to decimalisation and the new designs chosen were those by Stuart Devlin who is now goldsmith and jeweller to the Queen.
The framed 1966 Decimal Heritage Set features capsuled proof circulation composition 1c, 2c, 5c, 10c, 20c and a round silver 50c as they were first issued into circulation in 1966. These coins are however dated 2010 with the current obverse of Queen Elizabeth II by Ian Rank-Broadley. Are these Australia's rarest decimal coins available to collectors?
With the limited issue of just 400 the RAM sold out within just a few days. Issue price of $695 was a bit steep for some but for those that took the plunge we are now seeing results of over $1,000 for one of these listed for auction on eBay. It's a bit early to tell but with the inclusion of the 1c and 2c and the round version of our now standard dodecagonal 50c these particular coins may well have some of the lowest mintages of all of our decimal releases.
We've discussed further the mintages and rarity of this issue, see our follow-up articles "2010 Round 50c and 1 and 2c Proof Coins contained in the Framed Heritage Set" and the articles in the links above.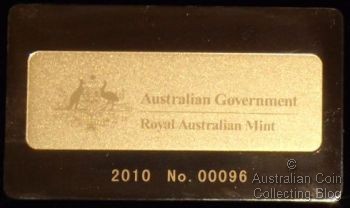 Heritage Set Numbered Plaque
Posted by harrisk at November 30, 2010 1:04 PM
Subscribe to our Newsletter