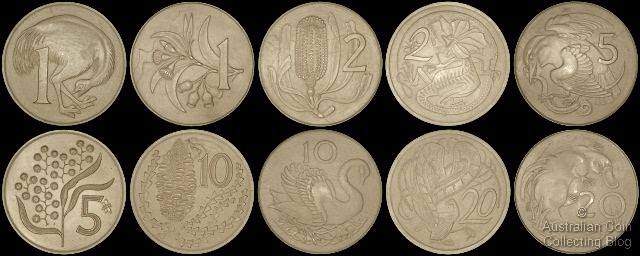 The 1966 Heritage Set Cast Resin Replicas - Click on Each Replica for Larger Image
In 1963 the Commonwealth Government commissioned artists to submit designs which would become famous on the new decimal currency. Australia was to
move to decimal currency from February 14 1966
and it was important that recognisable Australian flora and fauna be represented on our money. The chosen designs have now been used on Australian currency for 45 years and have stood the test of time. It's Stuart Devlin, jeweller to the Queen, we have to thank for the echidna on the 5c, the lyrebird on the 10c, and the
platypus on the 20c
just to name a few.
There were six artists commissioned (and paid 1,250 guineas) to submit designs for decimal currency. Some of these designs have been reproduced in resin replicas included in the framed 1966 decimal currency heritage set produced in 2010 by the Royal Australian Mint. 10 of these cast resin replicas (70mm in diameter) of the alternate designs can be seen in each set of which there is a very low mintage of just 400 sets.
Artists included Gordon Andrews best known for his designs on the first decimal banknotes, Richard Beck who designed the poster for the 1956 Melbourne Olympics, stamp designer Eileen Mayo, medal designer Andor Meszaros famous for the pattern Goose dollar, and artist John Saxton .
There were variations of each design with different formats, fonts and imagery on the different denominations. We saw some of Andor Meszaros designs reproduced on legal tender coins released by the Perth Mint in 2009 as another tribute to those designs that could have been. The designs on the Meszaros 1966 Australian Decimal Pattern set are similar to these resin replicas but none are exactly the same. Each artist was given the flora and fauna theme and worked on pencil sketches which were submitted to the Advisory Panel on Coin Design. Those approved designs were made into sculptures. Ultimately the Devlin designs were chosen but these cast resin replicas seen here were other designs considered.
Posted by harrisk at February 2, 2011 10:09 AM
Subscribe to our Newsletter