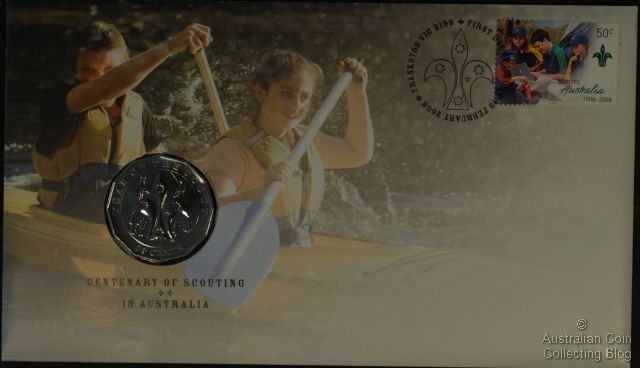 2008 Centenary of Scouting in Australia PNC
In 2008 the Scouting movement in Australia celebrated 100 years. In 2008 there were about 60,000 Scouts in Australia meeting regularly and enjoying outdoor activities and building skills to help them grow into strong citizens of Australia.
To celebrate this centenary the Royal Australian Mint produced both a one dollar coin into circulation
and an NCLT 50c coin. The Scouting 50c reverse was designed by Caitlin Goodall. The obverse is the standard Ian Rank- Broadley effigy of Queen Elizabeth II.
The coin is the standard plain edged 12 sided cupro nickel 50c seen in circulation but has been issued as NCLT -non circulating legal tender. It weighs 15.55g and is 31.51mm in diameter.
The PNC features a 50c stamp postmarked 19 February 2008 at Frankston Victoria, where the first Australian Pan Pacific Scout Jamboree was held in 1934. It has a card insert which features the coin. The PNC was issued for $14.95 by Australia Post with a mintage of 33,002 .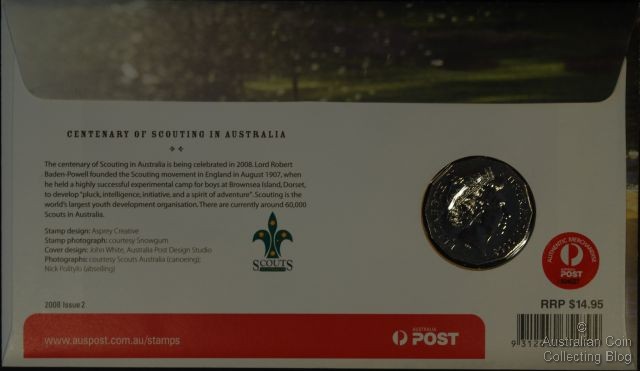 2008 Centenary of Scouting in Australia PNC
Posted by harrisk at November 23, 2010 10:05 AM
Subscribe to our Newsletter