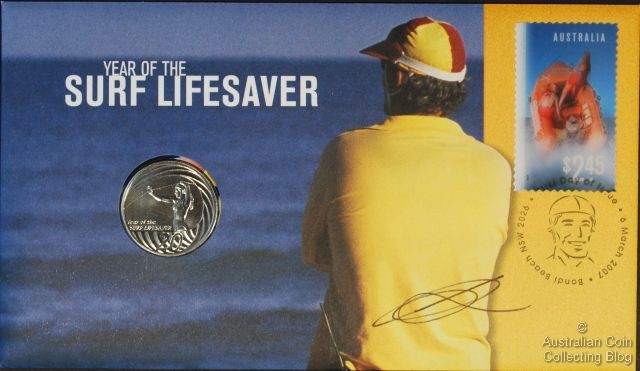 2007 Year of the Lifesaver PNC -this example signed by coin designer Tony Dean
The modern life saving movement began in 1907 when the NSW Surf Bathing Association was founded. Today, generations of Surf Livesavers both volunteers and paid clubs watch over our social activities on Australia's beaches keeping the community safe in the water. The surf lifesaver has become a symbol of Australia's identity.
100 years later in 2007 the Royal Australian Mint released a one dollar and 20c commemorative coins. Both issued as collector coins and were not issued into circulation. This 20c was designed by Tony Dean and the reverse features a female life saver riding the surf. The obverse is the standard Ian Rank-Broadley effigy of Queen Elizabeth II
The coin is the standard milled edge cupro nickel 20c seen in circulation but has been issued as NCLT -non circulating legal tender only in this PNC of 2007. It weighs 11.3g and is 28.52mm in diameter.
The PNC features a holographic $2.45c stamp postmarked 6 March 2007 at Bondi Beach NSW, one of Australia's most famous beaches. It has a card insert which features the coin. It was issued for $14.95 by Australia Post.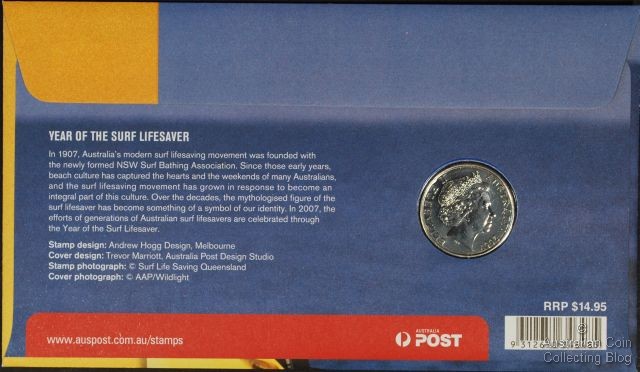 2007 Year of the Lifesaver PNC
Posted by harrisk at November 23, 2010 6:47 AM
Subscribe to our Newsletter