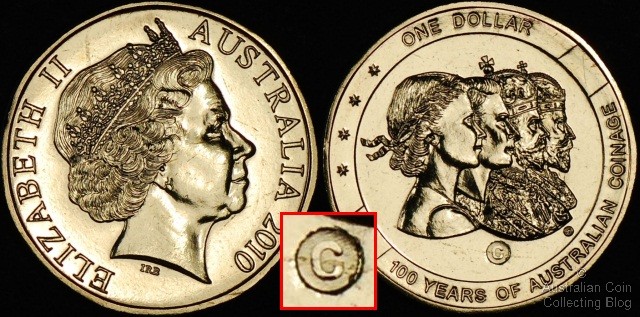 C Counterstamp 100 years of Australian Coinage One Dollar
This C Counterstamped standard one dollar coin commemorates 100 years of Australian Coinage in 2010. It is the mintmark dollar coin for 2010 and has already released with various mintmarks and privymarks in uncirculated aluminium bronze and proof silver. These issues have been outlined in the 2010 Issues and Mintages table where you can see at a glance the mintages of each issue.
This release is a C Counterstamp featuring a raised C within an incuse circular surround. The mintmark was applied to pre-struck coins at the mobile coin press at the ANDA show in Canberra on November 6th and 7th 2010. Here visitors were able to press the button on the portable press to strike their own coin for $10 each. This is a whopping increase on the $2.75 issue price of mobile press coins which were last seen at ANDA coin shows in 2008.
The coin features the standard Ian Rank-Broadley effigy of Queen Elizabeth II and the reverse design of the 4 monarchs is by Vladimir Gottwald. It is a standard 9 gram, 25mm aluminium bronze dollar issued in uncirculated quality. 4,970 of these special show issue portable press coins were struck overseen by Royal Australian Mint technicians at the RAM stand at the ANDA show. The folder housing the coin is seen below and specially states "2010 Canberra ANDA Show Special One Dollar 'C' Canberra Counterstamp"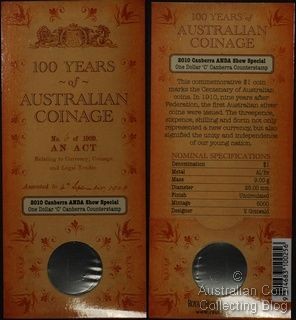 Show Special C Counterstamp Folder of Issue
Posted by harrisk at November 7, 2010 6:40 PM
Subscribe to our Newsletter