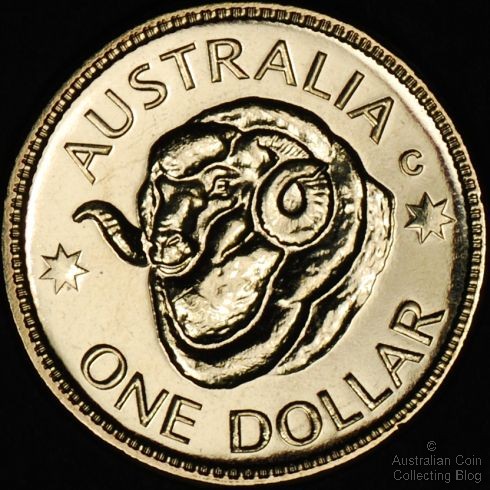 Australian 2011 Ram Dollar Coin C Mintmark - Reverse
From today, January 1st 2011 you will be able to strike your own 2011 Shilling Ram one dollar coin at the Gallery presses at the Royal Australian Mint Shop in Deakin, Canberra the Nation's Capital. Mint technicians worked through the night changing the dies in preparation for today's event.
It is set to be the mintmark/privymark/counterstamp coin design for 2011 and the gallery press coin will bear the C mintmark. This morning people lined up for the opportunity to be the first to strike the new coin, the first one hundred receiving a certificate. Last year we covered the event but weren't able to attend this years lineup.
The coin is different to the 2011 Wool $1 found in the 2 coin sets. It is a modern striking of the Uardry 0.1 design by George Kruger Gray found on Australian Shillings from 1938-1963.
Royal Australian Mint CEO Mr Ross MacDiarmid says "This collectible coin is an exclusive offer and one which will be sought after by many collectors. It is only available to make at our store in Canberra and bears a 'C for Canberra' mark on it, making it a memento to keep forever". Last year collectors believed the same thing until an Australia Post PNC release in February of the Cmm 100 years of decimal coinage $1 and then a 4 coin set which included the same coin. Maybe Mr MacDiarmid meant to say this is the only way to obtain this coin in this special folder.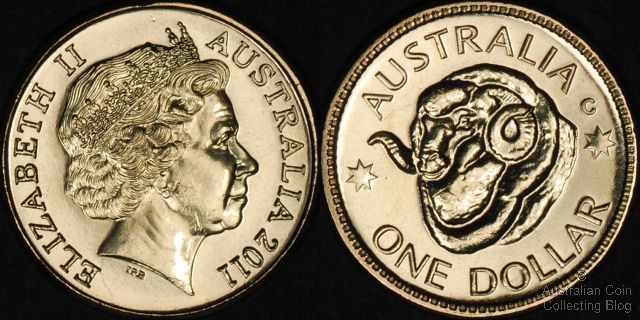 Australian 2011 Ram Dollar Coin C Mintmark from the RAM Gallery Press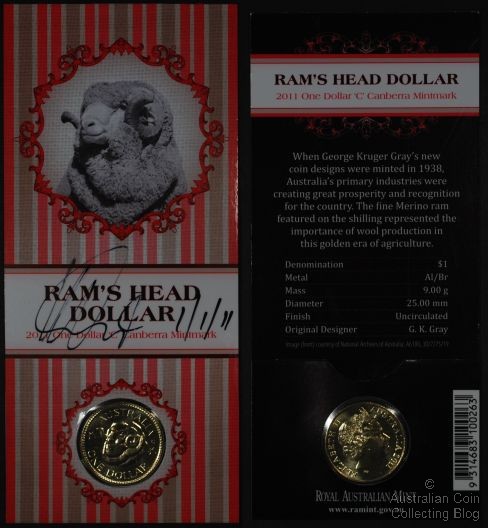 C mintmark coin in Gallery Press Folder with CEO Mr Ross MacDiarmid autograph -folder only available to purchase at the RAM
Posted by harrisk at January 1, 2011 12:02 AM
Subscribe to our Newsletter