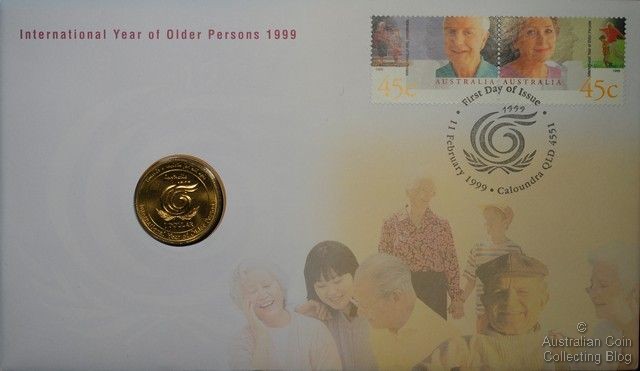 1999 International Year of Older Persons PNC
The 1999 International Year of Older Persons one dollar coin was released jointly by the Royal Australian Mint and Australia Post in a PNC. PNC is short for postal and numismatic cover which is a release incorporating a coin and stamp issue.
Further details about the coin included in this PNC can be found in the entry "Australian Dollar Coins - 1999 International Year of Older Persons One Dollar". The reverse was designed by Wojciech Pietranik and this coin can be found in circulation. The obverse is the standard portrait of QEII by Ian Rank-Broadley.
56,065 of these PNC's were issued on February 11th 1999 for just $3.95 each. As well as the standard circulation one dollar coin, the PNC includes two 45c stamps cancelled at Caloundra, Qld 4551 on the first day of issue.
If you're a collector of PNC's you might find our Complete Guide to PNC Issues Coin and Stamp Covers entry of interest.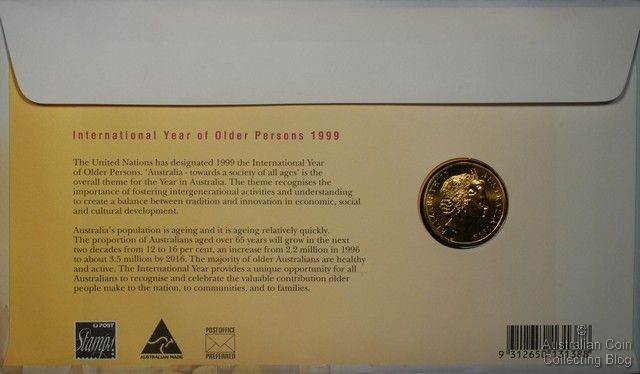 1999 International Year of Older Persons PNC
Posted by harrisk at February 28, 2011 12:34 PM
Subscribe to our Newsletter