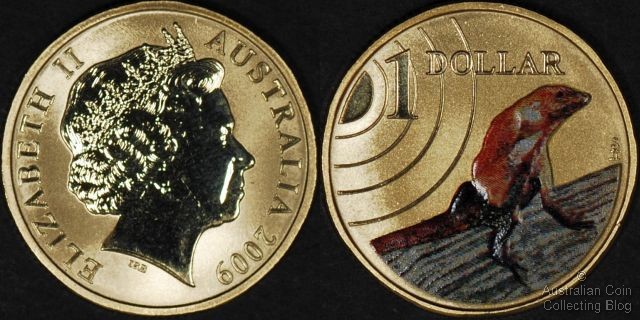 2009 Frilled Neck Lizard One Dollar
As part of the Land series of pad-printed colour designs the 2009 Frilled Neck Lizard as shown above was issued by the Royal Australian Mint in a colourful card. These standard sized one dollar coins were issued as NCLT collector coins. The Frilled Neck Lizard is more commonly seen on the now obsolete 2c piece designed by Stuart Devlin, but this design is depicted by Royal Australian Mint designer Sabina Foster.
The 2008-9 land series included the Bilby with a mintage of 17,950, Koala 28,445, Wombat 23,995, Rock Wallaby 25,163 and the Echidna 21,889. It followed the successful Ocean Series of 2006-7 and was supposed to be followed by an Air series of which we are yet to see.
The lowest mintage in this Land Series appears at this time to be the Frilled Neck Lizard with an astonishingly low mintage of just 2,690 coins. Now the RAM shop/website is sold out of this item so it appears that there will be no more of this coin minted. Now that doesn't always mean they won't produce any more, but considering we are now in 2011 it seems unlikely. We think this coin may be the next decimal NCLT to rise in value as collectors build sets and there is a shortage of this particular design. Maybe a chance here to stock up on a low mintage coin and take a punt on a price rise later.
Posted by harrisk at February 8, 2011 1:32 PM
Subscribe to our Newsletter