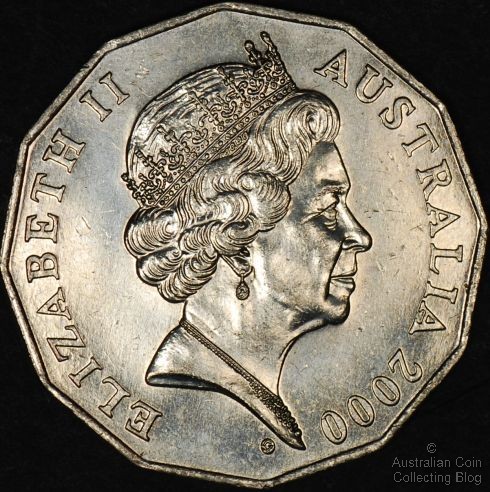 The Gottwald Portrait of Queen Elizabeth II
Over the years of reign of HM Queen Elizabeth II we have seen 4 standard portraits depicted on Australian currency -Gillick, Machin, Maklouf and Rank-Broadley.
In 1997, at the invitation of Buckingham Palace and the Royal Mint, there was a competition held for the new, more modern portrait design, that of Rank-Broadley was ultimately chosen. Three designs were submitted to her majesty for approval and the one seen above was one of these submitted by Australian designer Vladimir Gottwald.
Vladimir Gottwald, who currently works at the Royal Australian Mint in Canberra has designed many coin reverses (most recently the 2011 Australian Wool dollar and the 2010 Australia Day 50c). This obverse portrait is the first Australian designed effigy of the ruling King or Queen since Sir E B Mackennal KCVO RA sculpted the 1910-1936 effigy of King George V on Australian pre-decimal coins.
Gottwald's design was approved for use only on the 2000 royal visit 50c obverse but has been seen again on the Coat of Arms 50c in the 2010 Gold Year Set to mark it's 10th anniversary.
In Gottwald's depiction of a more mature Elizabeth II, the Queen wears the "Girls of Great Britain and Ireland" diamond tiara (as she also does in the first decimal Machin portrait and the Rank-Broadley portrait), which was a wedding gift from Queen Mary (HM's grandmother) in 1947. She also wears the King Faisal of Saudi Arabia Necklace, made by American jeweller Harry Winston which was a gift to the Queen on a state visit to England in 1967. The portrait also features Gottwald's designing initial, a G in a circle.
Posted by harrisk at February 9, 2011 11:43 AM
Subscribe to our Newsletter