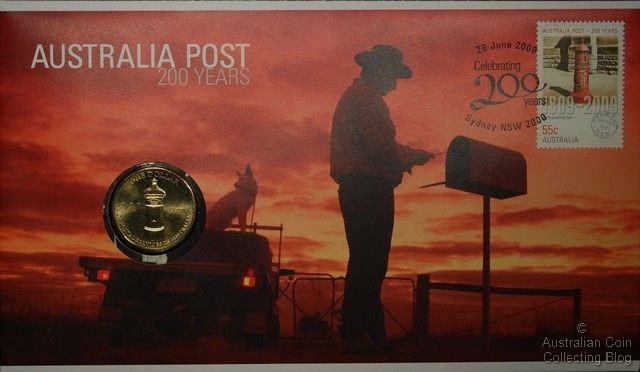 Bicentenary of Australia Post PNC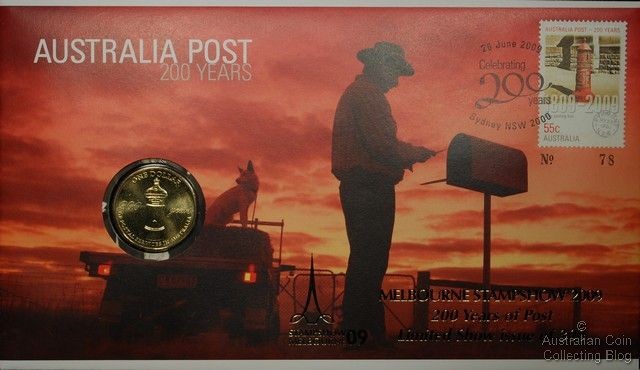 Bicentenary of Australia Post PNC -Melbourne Stamp Show Gold Overprint
2009 saw 200 years of the Australian postal service and a one dollar coin was released by the Royal Australian Mint. This uncirculated coin can only be found in a 2 coin set and the PNC seen here. Further details about the coin included in this PNC can be found in the entry "Australian Dollar Coins 2009 Bicentenary of Australia Post Dollar".
32,300 of these PNC's were issued by Australia Post with 300 overprinted with gold lettering sold at the Melbourne Stamp Show in 2009 (seen above). The Melbourne Show overprint is a limited issue with each PNC numbered. There is a growing trend for third parties to overprint, stamp, add postmarks or similar to officially produced items to add value or commemorate a particular occasion, in this case the stamp show.
The PNC features the 55c stamp also released to commemorate the bicentenary and is postmarked 26 June 2009. Released for $14.95 these PNC's are readily available on the secondary market for this price or even less.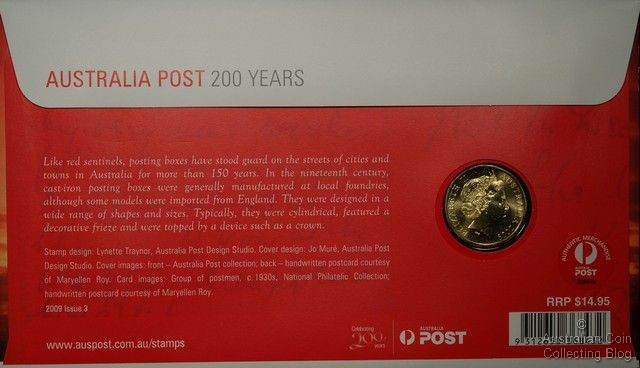 Bicentenary of Australia Post PNC
Posted by harrisk at March 7, 2011 10:39 AM
Subscribe to our Newsletter