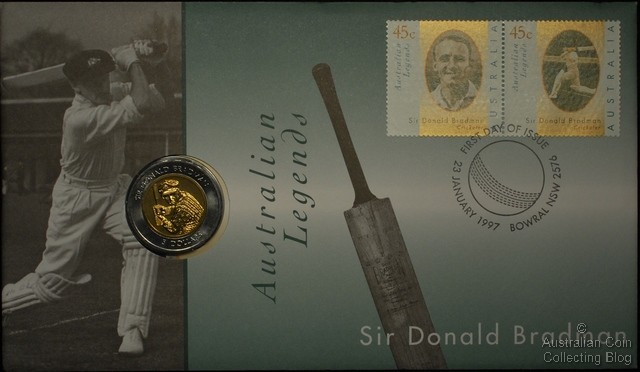 1997 Bradman PNC
1997 began an annual series of postage stamps issued by Australia Post commemorating Australian Legends. This was the first time a living person other than the Queen would be depicted on a postage stamp.
Australia Post released 2 stamps depicting legendary sportsman Sir Donald Bradman and they were used on a coin and stamp cover issued jointly by the Royal Australian Mint and Australia Post. A $5 bimetallic coin had been released the year before and was restruck with the same design but dated 1997 for inclusion in this special PNC issued for $9.95.
This PNC was issued on January 23rd 1997 in support for Australia Day celebrated on January 26th each year. The postmark depicts the six-stitcher cricket ball and the postcode Bowral NSW 2576, where Sir Don grew up and started his cricketing career. The coin is designed by Vladimir Gottwald and more detailed information can be found in the Australian $5 Coins 1996 Sir Donald Bradman Issues entry. 275,000 of these PNC's were issued.
A variety that can be seen with this PNC is a spelling error on the back of the envelope. In the second paragraph of text the mispelling "Austraila Day" can be seen on some PNC's. This was corrected but it is not known how rare the error PNC's are.
There have been many other Sir Donald Bradman coins issued over the years, see the Sir Donald Bradman Coins master list.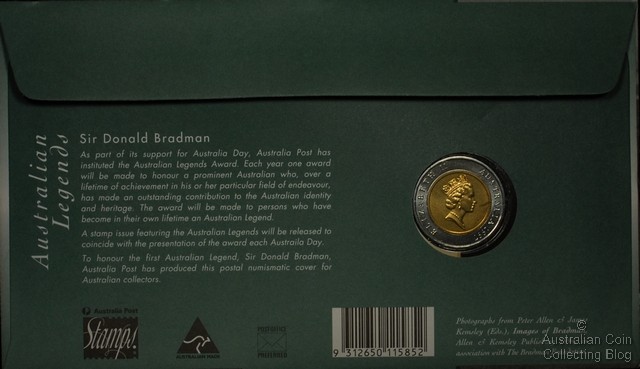 1997 Bradman PNC
Posted by harrisk at April 13, 2011 2:36 PM
Subscribe to our Newsletter