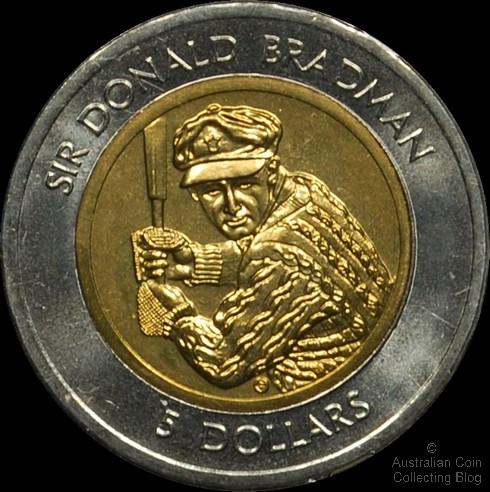 1996 Bi-metal $5
In 1996 there were 2 different coins minted as a tribute to the cricketing great "The Don". An uncirculated bi-metal $5 coin and a proof aluminium bronze $5 coin was released.
The uncirculated bi-metal $5 coin was issued in a collector card and also with a Westpac bank sleeve both for face value of $5. This bi-metal coin features an inner disc of aluminium bronze and an outer ring of austenitic stainless steel. 237,728 of the carded coins were struck and another 310,213 coins issued with the Westpac sleeve. This release is the first of many Bradman coins issued over the years. The coin weighs 10.6g and is 28.12mm in diameter -seen above.
An aluminium bronze proof coin with a different reverse (not shown) was also issued in 1996. Struck in Canberra at the RAM it was available for $30 to collectors and issued in a special case. These coins weigh 28g and have a diameter of 38.9mm with a fully reeded edge. A few specially numbered coins were donated to the Bradman Foundation, numbers 1, 334,452 and 999 representing some of the key scores, runs and Test averages achieved by Bradman in his cricket career. The Royal Australian Mint states that no more than 22,500 of these coins would be produced but it appears some reference guides indicate the mintage to be 22,523. Each coin is individually numbered.
Both reverse designs are by Royal Australian Mint designer Vladimir Gottwald and the obverse effigy of Queen Elizabeth II is by Raphael Maklouf.
These were the first Sir Donald Bradman coins of which there have been many, for more detail see the master list of Sir Donald Bradman Coins.
Posted by harrisk at April 13, 2011 3:15 PM
Subscribe to our Newsletter