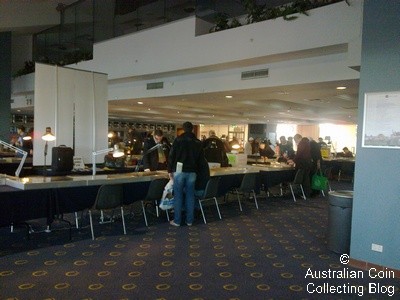 The 2011 Melbourne ANDA Coin and Banknote Show
One of the blog authors paid flying visit to the Melbourne ANDA Coin and Banknote Show for 2011 on Saturday July 2. We attended this year mainly as a coin buying trip but also managed to take a few images of the show and talk to quite a few people so we thought a short show report was in order.
Held at the Caulfield Racetrack (like the 2010 Show) this years show had strong dealer attendance. Local Melbourne dealers took the opportunity to bring along a lot of interesting material and it was quite easy to spend too much time searching through many interesting coins! Most of the usual dealers were present including Klaus Ford Coins, VP Coins, Prospect Stamps and Coins, Coinsearch.com, IAG, Roxbury Auctions, Downies, Edlins (with Tony Byrne of course), John Watson Coins, Sterling and Currency, Salamanca Rare Coins, Ye OIde Coin Co, and John Eccles from New Zealand. Universal Coin Company appeared for another show (we saw them at the 2011 ANDA Show in Brisbane) and the Royal Australian Mint and the Perth Mint also had stands selling their normal special show issues. Coinworks also had a stand at the show, the first time we can recall them doing so, they didn't have many coins on display but those that were there could have been exchanged for a quite a large house in a very nice suburb!
Apart from looking for coins, banknotes and exonumia show attendees could also put their names into a box for a prize draw or attend one of several seminars held during the day. The seminars were given by leading numismatic luminaries and were free. Sadly I was too busy looking at coins to go along but I am sure they were valuable exercises. Food and drink was also available at a snack bar in the show venue and having arrived early at the show on a typical icy Melbourne morning the coffee machine at the snack bar certainly did a roaring trade.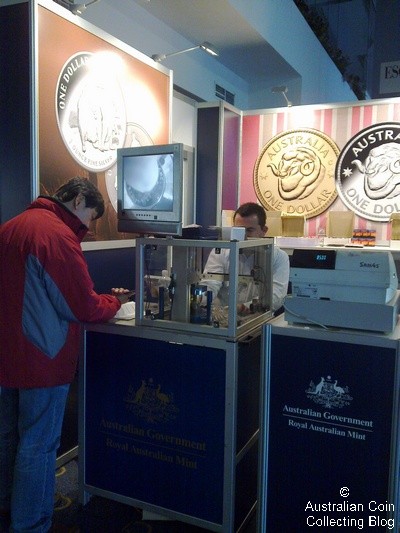 The RAM Portable Press
The RAM had their portable press at the show to issue the "M" counterstamp Ram's Head Dollar and this attracted the most interest early in the day with line ups of nearly an hour needed before lunch time. The counterstamp dollars could be purchased either pre-minted (made in Canberra according to the staff at the stand) or you could press the button on the portable press and 'mint' your own dollar if you chose. We'll make sure to look closely at both types of coins and see if there's any difference between the two.
It was great to be able to catch up with some numismatic friends at the show. These included our great friend and numismatic genius PRA and one of the most fanatical dollar collectors in Australia, Goldseeker. We also caught up with John Mulhall from the Australasian Coin and Banknote Magazine (look out for a new article from us the next issue or two). It was great to meet again with an error coin collector that we've been corresponding with for a while and look through his lovely errors, there certainly were some eye poppers in there!
That's it for this year's show in Melbourne, the next ANDA show is in Sydney in early August. We're not sure if one of us will attend but we'd certainly love to! In conclusion my special thanks must go out to Gerry McGinley of At the Toss of a Coin and Richard Welling of Ye Olde Coin Co for looking after me during the day I spent at the show. Richard had a stand at the show and was positive about the business he did during the day. Gerry went to help Richard out during the day and also to spot any bargains! We hope that he found some and Richard had an excellent second day of the show.
Posted by mnemtsas at July 3, 2011 10:26 AM
Subscribe to our Newsletter