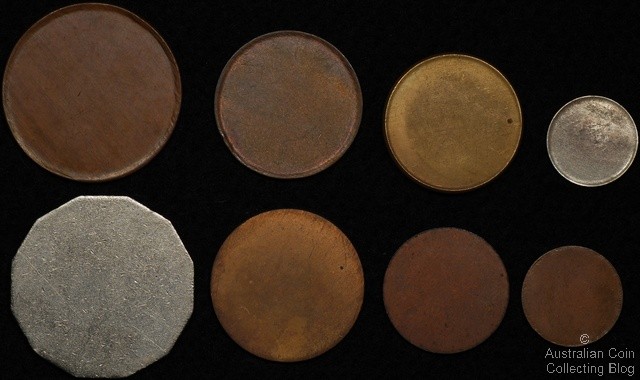 Coin Blanks
There are several terms for an unstruck coin. A blank, planchet or flan all of which are discs of metal that are cut from sheets in preparation to become a coin. Australian blanks for circulation coins struck by the Royal Australian Mint are supplied by the Poongsan company in South Korea. The Mint didn't always buy in the blanks though, they used to roll and cut planchets themselves.
Above you can see two different types of coin blanks. The bottom row are simply the discs cut from the sheet of coin metal and the top row are blank planchets which have been edge milled or rimmed in preparation for their trip through the coin press.
A simple coin blank can be picked up cheaply but there's something special to look out for. If that blank has passed through the coin press -and you can prove it, then it will be much more valuable! If there's even a hint of the coin design which might be a faint impression as seen on a die adjustment strike coin error or the impression left when the coin die just caught the edge of the blank then your "blank" could be worth 10 or 100 times more than it will as a blank. I say "blank" because it's now not a simple blank it's an error coin!
It's important to weigh your blank to help determine what the planchet was intended for. A coin blank I purchased as an Australian $1 unstruck planchet (shown above top second from right) appears to be aluminium bronze but it's weight isn't quite what it should be. It's actually 9.3g and not 9g as a dollar should. I can only guess then that it might actually be a blank for a Danish 20 kroner! Some blanks might weigh what they should but it's the composition that would determine what the coin should have been. An 11.31g round planchet has a number of possibilities, a pre-decimal florin (but is it pre 1946 sterling silver or post 1946 50% silver) or maybe a cupro-nickel decimal 20c?
Also worth discussing is that a coin blank is not technically an error coin. It simply hasn't finished it's process of becoming a coin.
Posted by harrisk at August 21, 2011 5:28 PM
Subscribe to our Newsletter