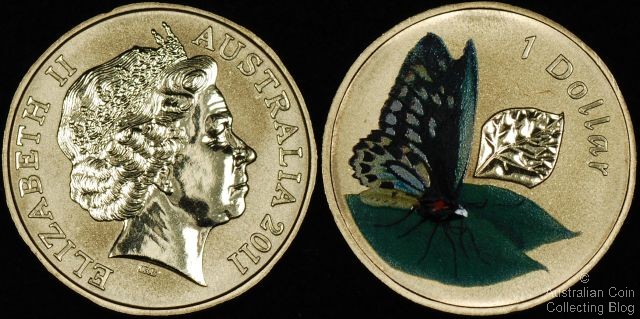 2011 Cairns Birdwing Butterfly
The third installment of Air series coloured dollars brings this Cairns Birdwing Butterfly and the Grey-headed Flying Fox. This makes 6 coins released in the Air Series after the success of the coloured (06-07) ocean and (08-09) land series in previous years. Pad printed coloured designs leap from the frosted uncirculated coin housed in a protective blister snapped into an informative card. Another Royal Australian Mint design by Caitlin Goodall. The obverse featuring the standard effigy of QEII by Ian Rank-Broadley.
This 25mm aluminium bronze one dollar shows the vibrant colours of Australia's largest butterfly, the Cairns Birdwing Butterfly (yes, named after the city of Cairns) found in the tropical rainforests of North Queensland. Interestingly it's the unadorned female that grows to (a wingspan of) 16cm, the largest butterfly endemic to Australia but it's the male which grows smaller that exhibits the vibrant colours shown on the reverse of this coin.
Issued at $14.95, find the mintage in the 2011 mintages table. See the other issues in the Air Series.
Posted by harrisk at September 28, 2011 1:41 PM
Subscribe to our Newsletter