Part 3 of the pictoral entries from the Royal Australian Mint's Unexpected Treasures exhibition is a treasure trove of errors for the delight of collectors. Wouldn't you love to have some of these errors! Sadly the errors on display all belong to the Mint's own collection but the Australian Coin Collecting Blog are proud to bring them to you thanks to Chris Zark and our Melbourne Correspondent 'SJS'.
Below is a stunning example of a very dramatic error. Visitors to the Royal Australian Mint in Canberra would have seen this coin before in the error display upstairs. Heat and pressure have welded a bolt to the coin, part of the press feeding mechanism! Now the press would have needed some dismantling to retrieve this error coin.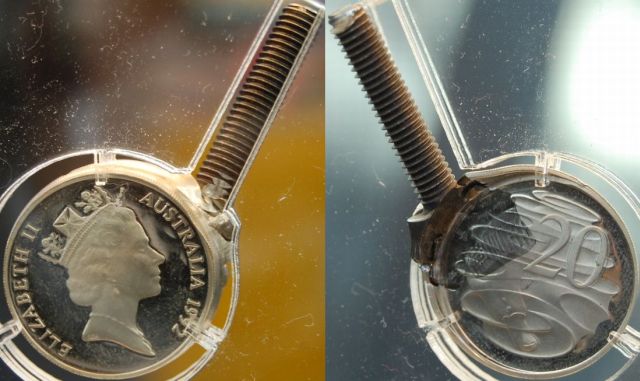 1992 20c Proof
When dies are mismatched in the press and that particular pair of dies were not intended to mate then you've created a Mule! These combinations are always human error or a deliberate striking. This 1991 5c proof has an Australian reverse and a New Zealand obverse.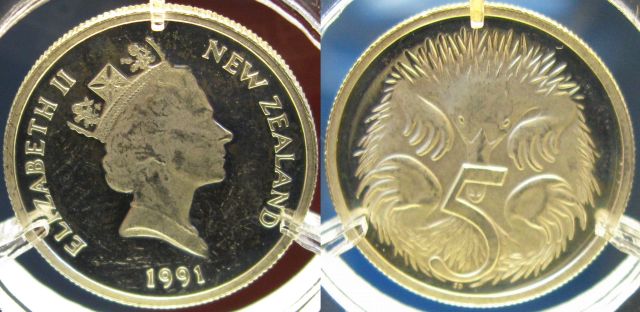 1991 New Zealand Australia 5c Proof Mule
Sometimes a blank of the wrong type or size gets mixed into the hopper of blanks ready to be struck. If a coin is struck on a wrong size blank then the result will be a weak strike or missing design because the planchet size or the pressure of the press is set incorrectly for that size blank. Below we see a 1981 20c on a Cupro-Nickel 10c blank and a 1980 2c struck on a Cupro-Nickel 5c blank.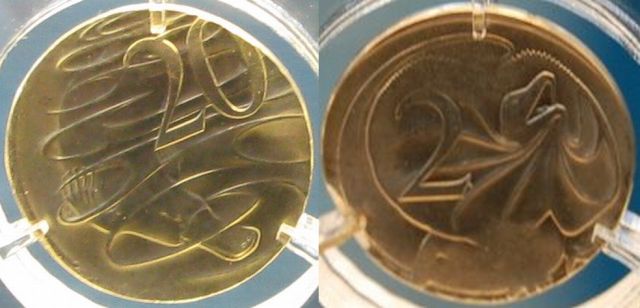 20c on 10c Blank (left), 2c on 5c Blank (right)
Posted by harrisk at September 16, 2011 11:21 AM
Subscribe to our Newsletter