The Australian Coin Collecting Blog is proud to bring you Part 2 of the pictoral entries of error coins displayed in the "One in a Million -Unexpected Treasures from the Royal Australian Mint" exhibition. (See Part 1 here) These errors have been picked up by the Mint during production and have never before left the Mint premises. Thanks to 'SJS', our Melbourne correspondent and Chris Zark we're happy to be able to bring you some images of these stunning error coins, some worth thousands of dollars.
This 2009 Australian Citizenship C mintmark one dollar was labelled as another "bottletop" by the RAM. The reverse image (left) looks at first glance like a dished double-strike. Look more carefully though and there are 3 clear strikes! These 3 strikes were made with the coin out of collar resulting in the slightly dished pancake-like appearance of the coin. The obverse..ahh..other reverse shows a late state brockage (of many many strikes) as the image (however distorted) is reversed and incuse as it was struck repeatedly against a struck coin (in this case the die cap) and not the die itself. So, in our opinion, this coin not technically a die cap.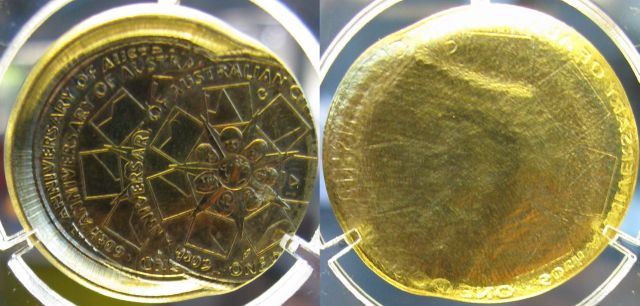 2009 Triple Struck with Brockage
Titled "Once Bitten" a display of 2 double clipped coins showed one struck and one blank. These types of errors easily escape the mint unnoticed. Clips are incomplete planchets arriving at the Mint in large drums from their South Korean supplier Poongsan. Have a close look at the 10c and you can see it has also been struck only partially in the collar making it a triple error coin -a double clipped broadstrike error!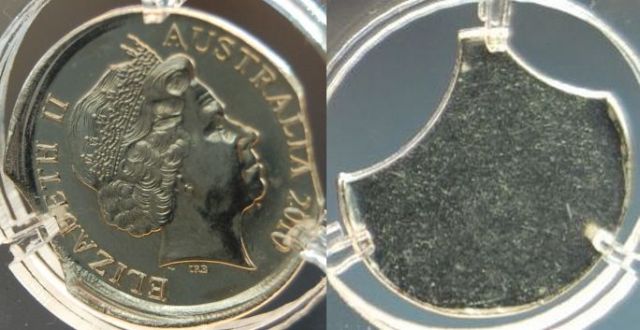 10c Double Clip Broadstrike and 10c Blank Planchet Double Clip
Posted by harrisk at September 15, 2011 7:55 PM
Subscribe to our Newsletter